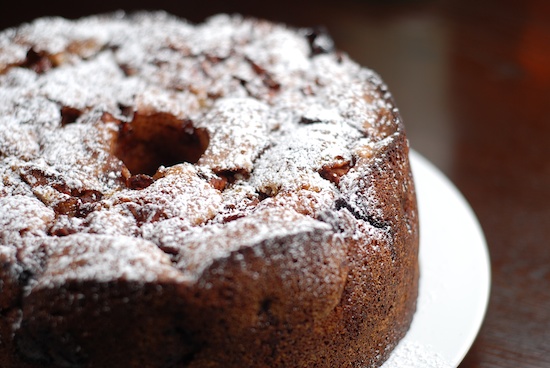 I'm going to let my husband say a few words because he LOVED this apple cake.    I thought it tasted like something that came from a bakery, not from my own oven.   I can see why he liked it, but it definitely wasn't my favorite.  I didn't hate it, I just didn't LOVE it.  Here's Charles…
I thought this cake was great.  It was quite moist, had nice chunks of apple throughout, and I can't understand why my wife didn't like it.   I can't think of much else to say, other than my wife's insane – this cake rocks!  If you like apples and you like cake, this is the dessert for you.
Ok, that was Charles.   The boys didn't like the cake either.  They're not fans of things that have chunks of fruit in them.
I found the recipe on the smitten kitchen website.   Check out her write-up.  She LOVED the cake.  If you decide to try it, your home will smell amazing as it cooks.
Apple Cake
Recipe from smittenkitchen.com

6 apples (I used macintosh)
1 tablespoon cinnamon
5 tablespoons sugar

2 3/4 cups flour, sifted
1 tablespoon baking powder
1 teaspoon salt
1 cup vegetable oil
2 cups sugar
1/4 cup orange juice
2 1/2 teaspoons vanilla
4 eggs
1 cup walnuts, chopped (optional)

Preheat oven to 350 degrees. Grease a tube pan. Peel, core and chop apples into chunks. Toss with cinnamon and sugar and set aside.

Stir together flour, baking powder and salt in a large mixing bowl. In a separate bowl, whisk together oil, orange juice, sugar and vanilla. Mix wet ingredients into the dry ones, then add eggs, one at a time. Scrape down the bowl to ensure all ingredients are incorporated.

Pour half of batter into prepared pan. Spread half of apples over it. Pour the remaining batter over the apples and arrange the remaining apples on top. Bake for a little over an hour (I cooked mine for an hour and 10 minutes), or until a tester comes out clean.

Yield: 1 cake or 12-14 servings

One year ago: Billy's Vanilla, Vanilla Cupcakes
Two years ago: Frosted Pumpkin Muffins


Print This Recipe