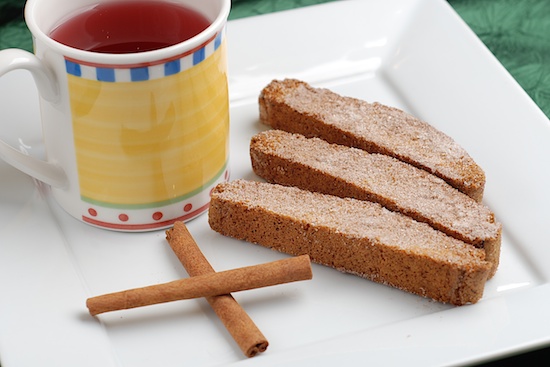 I have developed a taste for biscotti over the last couple of years. I never loved biscotti as a child, perhaps because all the biscotti that I tried had nuts in them, and nuts in things weren't my favorite back then. It's funny – although I really like nuts in things now, I searched long and hard to find a biscotti recipe without them.
These biscotti turned out to be perfectly dry and crunchy. They longed to be dipped into a nice warm drink. I think these would be excellent dunked in hot cocoa.
Until I read the recipe, I wasn't sure how biscotti got their crunch. Now I know that it's from the double baking. This recipe is definitely a keeper for me.
Cinnamon Sugar Biscotti
Recipe from joythebaker.com who found it on epicurious.com

2 cups flour
1 1/2 teaspoons ground cinnamon
1 teaspoon baking powder
1/4 teaspoon salt
1 cup granulated sugar
6 Tablespoons (3/4 stick) unsalted butter, at room temperature
1 egg
1 egg yolk
1 teaspoon vanilla
For Topping:
1/4 cup granulated sugar
1 teaspoon ground cinnamon
1 beaten egg (for brushing biscotti before baking)

Preheat oven to 325 degrees F and arrange two baking racks in the upper portion of the oven. Line two baking sheets with parchment paper and set aside.

In a medium bowl, whisk together flour, cinnamon, baking powder and salt. Set aside.   Also whisk together the cinnamon and sugar for the topping and set aside.

In the bowl of a stand mixer, fit with a paddle attachment, cream the butter and sugar until light and fluffy, about 4 minutes. Scrape down the down and beat in the egg followed by the egg yolk. Beat in the vanilla extract.

Add the dry ingredients to the creamed butter all at once. With the mixer or just with a spatula, bring all of the ingredients together until a somewhat stiff dough is formed.

Divide the dough in two on the two making sheets. Shape each half of dough into a 9-inch long and 1 1/2-inch wide log. Brush with the beaten egg and sprinkle very generously with cinnamon sugar. Bake the two sheets on two different racks in the oven for 20 minutes. Rotate the cookie sheets for even baking and bake for 20-25 more minutes until golden and firm to the touch.

Remove from the oven but keep the oven on. Let biscotti cool until able to handle. Using a serrated knife, cut logs into 1/2-inch wide diagonal slices. Place biscotti cut side down on baking sheet and sprinkle with more cinnamon sugar. Bake again until pale golden, about 10-15 minutes.

Store in an airtight container for up to one week.

Yield:  ~24 biscotti

One year ago: No Knead Bread
Two years ago: Broccoli Salad

Print This Recipe