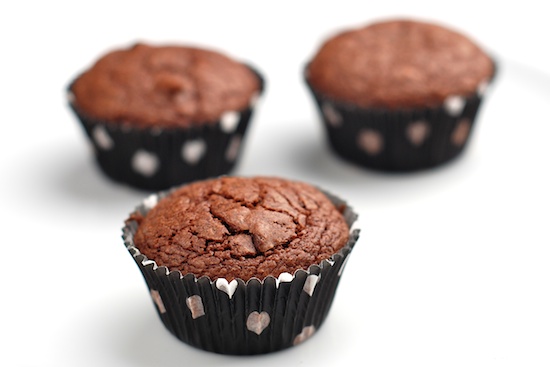 These tasty little cakes only have four ingredients. Yes, four.  You can whip these up in no time. Stir the four ingredients together, put them into a cupcake tin and bake for 10 minutes. They're that easy!
These are perfect for when you need something sweet, but you don't want to overdo it. They're also perfect for small hands.
I found this recipe via a site that I love called foodgazing.com. It's one of those sites that makes me drool every time I look at it. Photograph after photograph of beautiful, mouth-watering food. I often bring up the site for inspiration and boy was I inspired when I found this recipe.
The original recipe calls for chunks of bittersweet chocolate.   I didn't have any on hand, so I used mini chocolate chips.   They worked perfectly.
Mini Nutella Cakes
Recipe from Photo a Day

1/2 cup Nutella spread
1 large egg
5 tablespoons all purpose flour
1 ounce bittersweet chocolate, finely chopped (I didn't have any, so I used mini chocolate chips)

Preheat oven to 350 degrees. Line or grease mini cupcake/muffin pan.

Put the Nutella and egg in a medium bowl and whisk until smooth and well blended. Add the flour and whisk until blended. Spoon the batter into the prepared muffin tins (about 3/4 full) and sprinkle with the chopped chocolate (or chocolate chips). Bake about 10 minutes. Set on a rack to cool completely.

Yield: 12 mini cakes

Print This Recipe