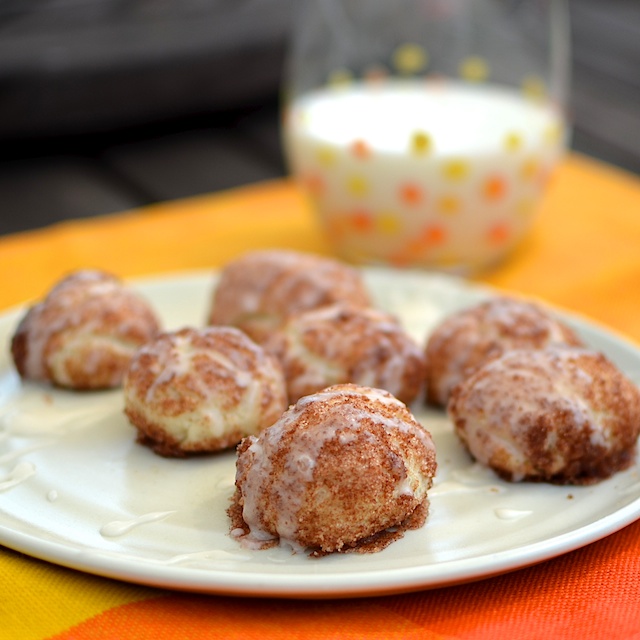 I made several batches of these little bites this summer. My boys LOVE them. I made the first batch as a treat for the boys. I thought that these would be easier to make than traditional cinnamon rolls. I'm not so sure I was right. Although easy, these are a fairly time-consuming little project to make. The dough is easy to make, but you have to allow enough time for it to rise. The really time-consuming part comes when you take the dough and portion it into similarly sized, small pieces. The next most time consuming part is rolling each tiny piece of dough in butter and then into the cinnamon-sugar mix. You'd be surprised how many small balls of dough this recipe makes. Lots and lots. Once the dough cooks, the final step is to drizzle a glaze onto them. I was pretty haphazard with the glaze, so this step didn't take too long for me.
I have made and served these all in one morning, although it was not an early morning. I have also made the dough the night before and let it rise in the refrigerator overnight. Letting the dough rise overnight saves a considerable amount of time in the morning.
These taste just like cinnamon rolls, but I like the fact that they're bite-sized. Sometimes a big cinnamon roll is just a little too much. One of these is never too much. Neither is two, or three.
Cinnamon Roll Bites
Recipe from High Heels and Grills

Dough:
1 1/2 cups hot water {as hot as you can get it out of the tap – not boiling.}
1 Tablespoon active dry yeast
2 Tablespoons granulated sugar
1 teaspoon salt
2 Tablespoons vegetable oil
3 1/2 to 4 cups bread flour
3/4 cup granulated sugar
1/4 cup brown sugar
1 Tablespoon cinnamon
1/2 cup {1 stick} salted butter, melted

Icing:
1 cup powdered sugar
2-3 Tablespoons milk
2 Tablespoons butter, melted
3/4 teaspoon vanilla

In a large bowl, combine water, yeast and sugar and let sit until frothy, about 5 minutes or so. Add the salt and vegetable oil and mix well. Add 2 cups of flour and mix well. (Use a stand mixer with the dough hook, if you have one.) Mix in the remaining flour, 1/2 cup at a time, until dough starts to pull away from sides of the bowl and is no longer sticky.

Turn the dough out onto a floured surface and knead until smooth and elastic. Place the dough in a greased bowl and cover with plastic wrap. Let rise for one hour, until doubled in size. If you're making the dough the night before, just place the covered bowl in the refrigerator and go to bed.

Preheat oven to 375°F.

Punch down dough and knead on a floured surface until smooth again; set aside.

In a small bowl, combine sugars and cinnamon. Place melted butter in another small bowl.

Rip off small pieces of dough and roll them into balls. Mine were slightly smaller than a golf ball. Dip the balls in the butter and then roll them in the sugar mixture. Place them on a cookie sheet. Repeat until all the dough is gone. You may need a couple of cookies sheets.

Bake for 10-12 minutes.

Make glaze by mixing all of the ingredients together. Drizzle the glaze over the warm cinnamon roll bites. Serve warm.

Yield: Lots!

One year ago: Baked Oatmeal with Fruit
Two years ago: Chicken Tortilla Soup
Three years ago: Carole's Whipped Cream Pie
Four years ago: Grandmother Paula's Sour Cream Pound Cake
Five years ago: Skillet Shrimp and Rice

Print This Recipe