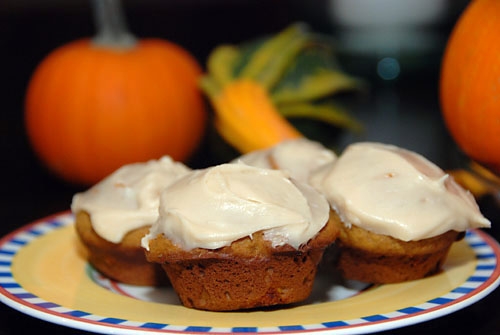 On the way home from dropping the boys off at school recently, one of the other mothers asked if I had a good pumkin bread recipe.   I told her that I had definitely made pumpkin bread in the past, but I didn't have a recipe that I turned to regularly.   This past Saturday was a gray, rainy day, so I set out to find a pumpkin bread recipe that I thought looked good.   I definitely didn't want one with raisins.  Yuck!
I settled on this recipe because I liked the spices that were in it, it didn't contain raisins, and I loved the idea of a frosted muffin.   I intended to frost them with a glaze, but as I was making the frosting, I got it to a consistency that I liked and I stopped adding the milk, so my frosting ended up being a little thicker than a glaze.  
All four of our boys (two of whom will not touch vegetables), devoured these muffins.   They ate quite a few of them without the frosting, and I have to admit, I didn't think the muffins really needed the frosting, but I wanted to try it.   They were great without the frosting, and excellent with it.
I always make mini-muffins, which are a perfect size for our boys.   If you'd like to make 12 standard muffins, cook them for 15 minutes, or until a toothpick inserted into the center comes out clean.
I'm baking pumpkin cookies right now with the leftover pumpkin puree.   They're making our apartment smell great.  I hope they taste as good as they smell.    
Frosted Pumpkin Muffins

1/2 cup butter, at room temperature
2/3 cup firmly packed light brown sugar
1/4 cup honey
1 cup pumpkin or winter squash purée, canned or homemade (I made mine a generous cup)
2 large eggs
2 cups all-purpose flour
1 teaspoon baking soda
1 1/2 teaspoons ground cinnamon
1/4 teaspoon ground ginger
1/4 teaspoon nutmeg
1/2 teaspoon salt

Preheat the oven to 400ºF.  Spray a mini-muffin pan (the kind that makes 24 muffins) with oil.

In a large bowl, combine the butter, brown sugar, and honey. Using an electric mixer set on medium speed, beat until creamy. Add the pumpkin and eggs and beat until smooth. In another bowl, stir together the flour, baking soda, cinnamon, ginger, nutmeg and salt. Add the dry ingredients to the pumpkin mixture and mix just until incorporated.

Spoon the batter into the prepared muffin cups, filling each almost to the rim, and smooth the tops. Bake for 10 minutes, or until a toothpick inserted in the center comes out clean. Transfer to a wire rack and let cool slightly, then turn the muffins out and let cool completely on a rack.

Frosting
1 cup confectioners' sugar
2 tablespoons butter melted
1 1/2 teaspoons vanilla
2 -3 teaspoons of milk (add enough to get to your desired consistency)

In a small bowl, beat together the confectioners' sugar, butter, vanilla and milk. Spread over the cooled muffins. Serve at room temperature. 

Yield:  12 standard or 24 mini muffins

Print This Recipe