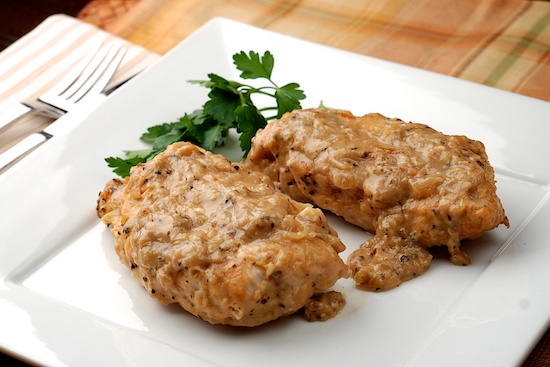 Guess what I got for Christmas? A pressure cooker! This past fall, I read about the resurgence in popularity of pressure cookers. They sounded a lot more appealing than the one my mom used when I was growing up. She used hers fairly frequently and it had a valve on top that made a terribly loud hissing sound and every time she used it I was convinced the top of the pot was going to come flying off, sending hot food everywhere. I was scared to death every time my mom used it and I hated to walk into the kitchen while it was being used. Despite my fear, the top never flew off.
My parents bought me a Fagor Duo pressure cooker and I can't be more excited. This chicken picatta is the first dish I made and I'll definitely make it again. The beauty of a pressure cooker is that it cuts cooking times dramatically. It's also much more quiet than the one my mother used. This one actually isn't scary at all. The other day I made a soup with pearl barley and dried lentils in less than 15 minutes. It was amazing. I'm now a pressure cooker convert. I've been having a lot of fun with it.
This chicken was incredibly flavorful and tender. The sauce is delicious too! The prep work involved in this recipe takes more time than cooking the chicken. It takes a little time to brown the chicken and it also takes a few minutes to saute the shallots and garlic. I skipped the olives in this recipe because I like them, but don't always love them mixed into things. Once my 6 chicken breasts went into the pressure cooker, they were perfectly cooked in 10 minutes. It was amazing.
Pressure Cooker Chicken Piccata
Recipe from Food.com

6 boneless chicken breast halves
1/2 cup all-purpose flour
1/4 cup olive oil
4 shallots
3 garlic cloves, crushed
3/4 cup chicken broth
1/3 cup fresh lemon juice
1 tablespoon sherry wine
2 teaspoons salt
1/4 teaspoon white pepper
1 teaspoon dried basil
1 cup pimento stuffed olive, minced, optional
1/4 cup sour cream
1 tablespoon flour
1/4 cup fresh parmesan cheese, grated
1 lemon, thinly sliced, to garnish

Dredge chicken in flour to coat each piece lightly.

In pressure cooker, heat oil. Add chicken breasts, two at a time, and saute in hot oil until brown on both sides, using long-handled tongs to turn. Set aside.

Add shallots and garlic and saute in remaining oil, scraping bottom of pan to loosen browned particles remaining from chicken. Stir in broth, lemon juice, sherry, salt, pepper, basil, and olives (if using). Mix well.

Add chicken pieces. Secure lid. Over medium-high heat, develop steam to high pressure. Reduce heat to maintain pressure and cook 10 minutes. Release pressure according to manufacturer's directions. Remove lid.

Transfer chicken to serving platter, and cover to retain heat.

Whisk sour cream and flour together. Stir into cooking liquid and cook over medium heat 1 minute, stirring constantly.

Spoon sauce over chicken. Sprinkle with cheese and garnish with lemon slices.

Yield: 6 servings

One year ago: Pomegranate Berry Smoothie
Two years ago: Smoked Tuna Dip
Three years ago: Curried Rice and Quinoa Salad
Four years ago: Maple-Braised Pork Chops

Print This Recipe