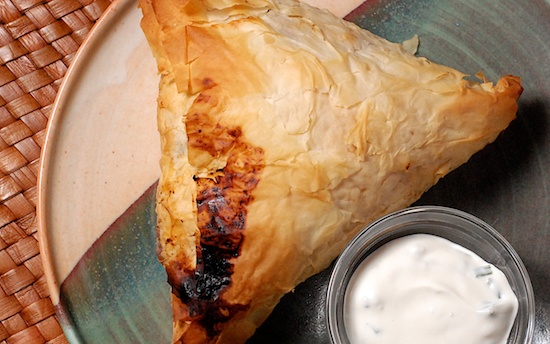 This isn't the best picture, but these fish pies are delicious! They're like fish tacos in a flaky pastry crust. I made these with a girlfriend the other night. It's best to make these with a friend because the phyllo dough can be devilish. It's much easier to make them if you have a second set of hands.
I bought some beautiful cod the other day from our local farmer's market. It was caught and filleted the day before I bought it. In my book, there's nothing better than fresh fish. It's so sweet and delicious. The only bad thing about fish is that your apartment will smell terribly fishy while it's cooking. These pies weren't too bad – I didn't notice the fishy smell while they were in the oven.
If you decide to make these, I recommend investing in a can of spray olive oil. It will cut your preparation time drastically.
Let me explain why it's easier to have two people making these – phyllo can be very difficult. It tears quite a bit, and it also dries out before you can blink. I keep a damp towel over the phyllo while I'm using it and that seems to help a bit.
These pies scream with flavor when you bite into them and the dipping sauce is delicious too.  I'll definitely make these again and I'll take a better picture next time. I'll make sure you can see the delicious filling.
These reheat nicely in the oven if you happen to have any left over.
Baja-Style Fish Hand Pies
Recipe by Rachel Ray

1 mango—peeled, pitted and cut into 1/2-inch cubes
1/3 cup finely chopped red onion
1/3 cup chopped fresh cilantro
4 teaspoons fresh lemon juice
Salt and pepper
Four 4-ounce skinless, boneless cod fillets cut into 1″-wide strips
1 teaspoon ancho or chipotle chile powder
One 16-ounce box phyllo dough
Extra-virgin olive oil, for brushing or olive oil spray
1/3 cup sour cream
1/3 cup mayonnaise
2 tablespoons snipped fresh chives
1 ripe avocado—peeled, pitted and cut into wedges

Preheat the oven to 425°. In a medium bowl, combine the mango, onion, cilantro, 2 teaspoons lemon juice and 1/2 teaspoon each salt and pepper. Season the fish with the chile powder, salt and pepper.

On a work surface, lay 1 sheet of phyllo dough flat. Brush half of the sheet lengthwise with olive oil, then fold in half lengthwise. Brush the top of the folded pastry with olive oil. Place another sheet of phyllo on top, matching the 2 corners; either brush the layered half of the sheet lengthwise with olive oil or spray it with the olive oil spread and fold the overhanging half lengthwise over the layered half. Brush the top with olive oil or spray it with the oil spray (spraying is much easier than brushing!). Repeat the process with 2 more sheets of phyllo. Place 1 piece of fish about 2 inches from the top short corner of the pastry. Scatter one-quarter of the mango salsa over the fish. Fold into a triangular package. Brush or spray the entire pastry with olive oil and transfer to a parchment-lined baking sheet. Repeat with the remaining phyllo, olive oil, fish and mango salsa.

Bake until the pastries are golden-brown, 15 to 18 minutes. Meanwhile, in a medium bowl, combine the sour cream, mayonnaise, remaining 2 teaspoons lemon juice, the chives and 1/4 teaspoon pepper. Serve with the fish pies and avocado wedges.

Yield: 4 servings

One year ago: Chicken, Ham and Swiss Roulades
Two years ago: Frozen Chocolate-Covered Bananas
Three years ago: Sweet Corn Muffins

Print This Recipe