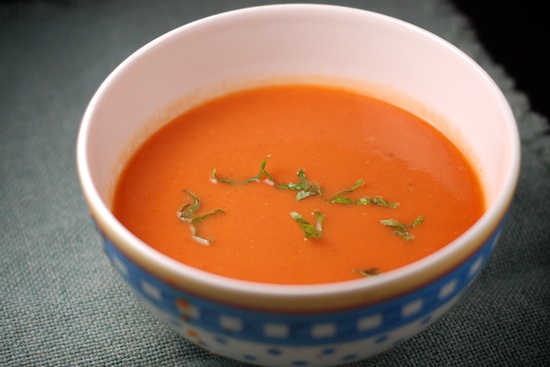 My husband's aunt recently had some dental work done, so I was fishing through my saved recipes for a nice soup to make for her. I have made tomato soup before, but I liked that fact that this one did not contain any cream, yet it looked incredibly creamy (and appealing) in the picture that I saw. Based on the fact that I decided to post it, you know I liked it. I have made it several times now and it gets great reviews every time I make it. I love the fact that it uses canned tomatoes so it's easy to make from pantry staples. Give this soup a shot – you won't regret it. It's perfect for lunch on a cold day with a nice grilled cheese sandwich!
Classic Tomato Soup
Recipe from Fine Cooking, January 2008
2 Tbs. extra-virgin olive oil
1 Tbs. unsalted butter
1 large white onion, finely chopped
1 large clove garlic, smashed and peeled
2 Tbs. all-purpose flour
3 cups lower-salt chicken broth
28-oz. can whole peeled plum tomatoes, puréed (include the juice)
1-1/2 tsp. sugar
1 sprig fresh thyme
Kosher salt and freshly ground black pepper
3 Tbs. thinly sliced fresh basil, chives, or dill, or a mixture of all three as a garnish
In a 5- to 6-quart Dutch oven, heat the oil and butter over medium-low heat until the butter melts. Add the onion and garlic and cook, stirring occasionally, until soft but not browned, about 8 minutes. Add the flour and stir to coat the onion and garlic.
Add the broth, tomatoes, sugar, thyme, and 1/4 tsp. each salt and pepper. Bring to a simmer over medium-high heat while stirring the mixture to make sure that the flour is not sticking to the bottom of the pan. Reduce the heat to low, cover, and simmer for 40 minutes.
Discard the thyme sprig. Let cool briefly and then purée in two or three batches in a blender or food processor. Be sure to purée in small batches and crack the blender lid slightly (or remove the center cap from the lid). Steam can build up once you start blending, and if the lid is on tight or the blender is overfilled, it will spray hot soup all over you and your kitchen. For protection, cover the top with a dishtowel while puréeing.
Rinse the pot and return the soup to the pot. Season to taste with salt and pepper. Reheat if necessary. Serve warm but not hot, garnished with the herbs.
Make ahead tips: This soup stores beautifully and tastes better the second day. You can keep it in the refrigerator as long as you bring it to a boil every two days. Or you can stash it in the freezer for up to three months.
Yield: ~8 cups of soup
Three years ago: Frosted Pumpkin Muffins These are delicious without the frosting too!

Print This Recipe