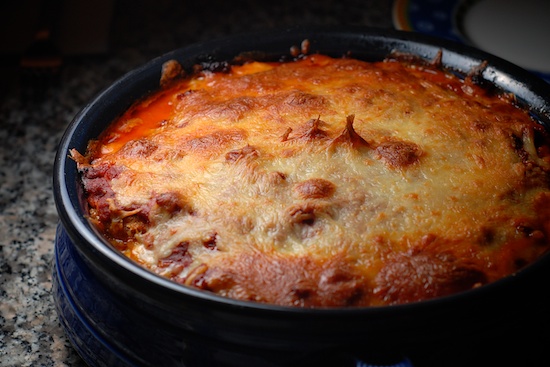 Growing up, we always got to choose our birthday dinner and dessert. When I was younger, I would always choose Chicken Divan. To this day I still love it, although I don't make it much. The recipe my mom followed called for sauteed chicken breasts served over a bed of broccoli, covered in a sauce made of a can of Campbell's Cream of Chicken soup (undiluted), mayonnaise and lemon juice. The sauce may have had a few more ingredients, but those were the predominant ones. Ah, and it was topped with cheddar cheese. You baked the whole thing in the oven and the result was creamy and delicious. I asked for Chicken Divan for years, until I started asking for my mom's homemade eggplant Parmesan. To this day I still ask for her eggplant parm for my birthday. The parmigiana consists of my grandmother's homemade meat sauce, pan-fried breaded eggplant and lots of mozzarella cheese. There's really nothing better in my book.
The other day I was inspired to make one when I saw all of the beautiful eggplant at the market. This is a somewhat time consuming meal to make, but it's definitely worth the effort. None of the individual steps are tricky, they just take time. My mom used to pan fry the breaded eggplant, just like you pan fry chicken cutlets, but I decided to save some time by breading and baking the eggplant. It's a big time saver, and I also don't end up with grease, smoke and the smell of fried food permeating our apartment.   I have to say, mine was as delicious as my mom's!
If you have never cooked with eggplant before, it's a little like apples and potatoes in that once you peel them, you want to work with them fairly quickly before they turn brown.
Carole's Eggplant Parmigiana

1 large onion, diced
2 cloves garlic, minced
2 Tablespoons olive oil
1 pound ground beef
1 28-oz. can tomato puree
1 6-oz. can tomato paste
1/2 tsp sugar
1 teaspoon chopped basil (dried is OK)
1/2 teaspoon dried oregano
1/2 teaspoon red pepper flakes (optional)
1 cup water
1 large or 2 medium eggplants
2 eggs
Seasoned breadcrumbs (3 – 4 cups)
1 pound mozzarella cheese (or more to taste), cut into 1/4″ slices
2 -3 Tablespoons Parmesan cheese

To make sauce (which can be made in advance): Saute the onion and garlic in olive oil until the onion is soft, about 3 – 5 minutes. Add the ground beef and cook until all the red is gone, stirring the whole time. Add tomato paste, tomato puree, sugar, basil, oregano, red pepper flakes (if using) and water. Stir well until completely blended. Simmer for 1 to 1.5 hours over very low heat. Stir occasionally. Monitor it so it doesn't burn on the bottom.

Meanwhile, preheat the oven to 400 degrees F. Peel the eggplant and slice into 1/2″ rounds. Whisk the eggs with a teaspoon of water in a low, wide-rimmed bowl and set aside. Pour a cup of seasoned breadcrumbs into another similar bowl. Place the bowls next to each other. Grease two rimmed baking sheets. Dredge the eggplant in the eggs, then cover both sides evenly in breadcrumbs. Placed breaded eggplant slices on the greased baking sheet. Repeat the process until all of the eggplant is breaded. Lightly spray both sides of the eggplant with oil (olive oil if you have it, otherwise Pam is fine.) Salt and pepper the eggplant. Bake for ~15-20 minutes on each side or until golden.

When the sauce is made and the eggplant is browned, the parmagiana can be assembled. Begin by covering the bottom of your baking dish with some sauce. Layer eggplant, sauce and cheese and continue in this fashion until all eggplant is used ending with sauce and finally a generous covering of mozzarella. Sprinkle with Parmesan cheese. Bake in a 350 oven for approximately 30 minutes or until the top is brown and bubbly.

Yield: 6 – 8 servings


One year ago: Breakfast Apple Granola Crisp
Two years ago: Billy's Vanilla, Vanilla Cupcakes
Three years ago: Chicken with Onions and Vinegar

Print This Recipe