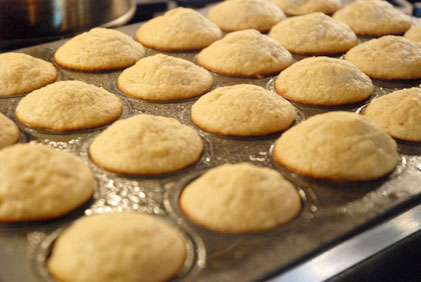 I am the queen of making muffins.  I love to make them, my boys like to eat them, and all is good.   This recipe is for banana oat bran muffins.    At our pediatrician's recommendation, I always look for ways to sneak a bit of bran into recipes for the boys.    
I think these muffins taste just like they came from a fancy shop.  Although the recipe only calls for two bananas, they have a really nice banana flavor.   This is now one of my favorite muffin recipes.  Two of my boys like them, one thinks the recipe is ok and I have one that doesn't like bananas at all and he definitely doesn't like them.   When cooked, these look very similar to my corn muffins, so the other morning I served these to all of the boys.  I wanted to make sure that my one son really didn't like the flavor of bananas.   He thought they were corn muffins at first, and I didn't correct him.   He was sorely disappointed when he tried it, so I made him something else.   Now I really know that banana isn't one of his favorite flavors.
If you're making muffins for children, I highly recommend a 24-muffin pan.   They make muffins that are the perfect size for little hands.
When I make this recipe, I use two whole eggs instead of egg whites, because it's easier.  I also leave out the pecans because the boys don't like nuts in baked goods.   They love nuts by themselves, and they love the sugar spiced nuts that I make, but they don't like nuts any other way.  Alas no delicious pecans in my muffins.
Quick Oat Bran and Banana Muffins
Adapted from Bon Appetit, January 1991 

1 1/4 cups all purpose flour
1 cup oat bran
1/2 cup sugar
1 tablespoon baking powder
1/2 teaspoon salt
3/4 cup milk
1/4 cup (1/2 stick) butter, melted
2 egg whites
1 teaspoon vanilla
2 ripe bananas, peeled, chopped
1 cup chopped pecans

Preheat oven to 400°F. Grease twenty-four mini muffin cups. Combine first 5 ingredients in large bowl. Whisk milk, butter, egg whites and vanilla to blend in medium bowl. Add milk mixture to dry ingredients, stirring until just combined. Mix in bananas and 1/2 cup pecans (if using). Divide batter among prepared muffin cups. Sprinkle remaining pecans over each muffin. Bake until toothpick inserted into centers of muffins comes out clean, about 12 minutes. Transfer to rack to cool. Serve warm or at room temperature.

Yield:  24 mini-muffins

Print This Recipe