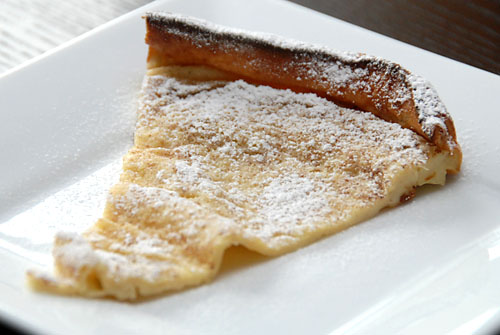 Our boys were home from school last week and I was looking for something new to make for breakfast when I came upon a recipe for a Big Dutch Baby.   A Big Dutch Baby is a German pancake that is very simple to make, and a lot of fun to watch bake.    It puffs way up in the oven and then collapses when you remove it.   Traditionally it's served with a squeeze of fresh lemon juice and some powdered sugar.   I didn't have any lemon juice, so I just used the sugar.
You'll need a pan that can go in the oven, and one word of advice, beware of the pan when you take it out of the oven.   The handle stays hot for a really long time.   Whenever I take a hot frying pan out of the oven, I always put an oven mitt over the handle so no one is tempted to touch it and get burned.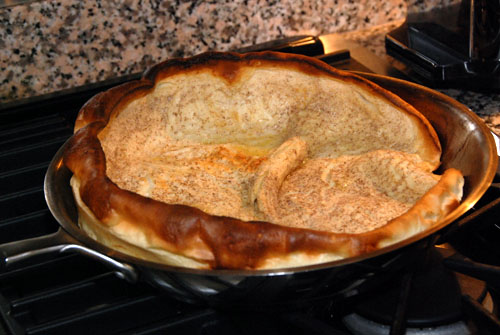 Big Dutch Baby

1/2 stick butter (you can also cut this down to 2 Tbsp. of butter – I just made it this way and it was delicious)
3 eggs
3/4 cup flour
3/4 cup milk
1/2 tsp salt
1 Tbsp. sugar
1/4 tsp vanilla
Cinnamon to taste (I used ~1/4 tsp.)

Heat a 10″ oven-proof dish or skillet in the oven at 425 degrees F. When hot, put butter in the pan/dish and put it back in the oven.  Heat for a minute or two until the butter is melted – watch the pan to make sure the butter doesn't burn.

Whisk eggs until foamy. Add milk, flour, salt, vanilla and cinnamon to the eggs. Blend just to combine.
Remove the dish with the melted butter from the oven. Roll the dish around to spread the butter evenly.
Pour the batter in immediately and put it back in the oven. Bake for 20-25 minutes or until the pancake is lightly browned.  It will puff up when in the oven and will deflate when removed.

Serve in wedges with fresh lemon juice and powdered sugar.   As an alternative, serve them with fresh berries.


Print This Recipe