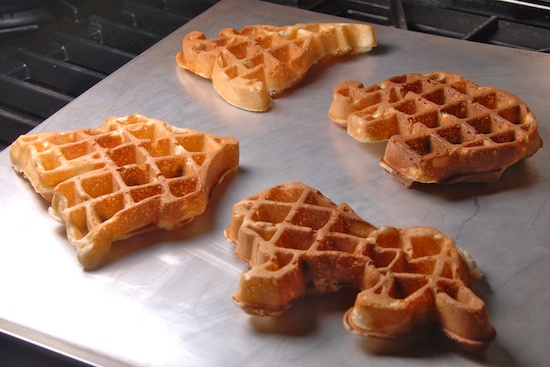 My boys love waffles for breakfast, and I must admit that we always have a box of Eggo waffles in the freezer for the days when I don't cook breakfast.  I have made waffles before, but I didn't have a go-to waffle recipe until now.   I found this recipe about a month ago, and I have made it numerous times since.  The boys LOVE these waffles, and I do too.   They're crispy on the outside, light and fluffy on the inside and slightly sweet.
When we make waffles in our house we make circus waffles.   A couple of years ago, our Aunt Darcy gave us a waffle iron that makes waffles in the shapes of circus characters.   She gives us the best presents!  Our waffle iron makes a clown, a circus tent, a lion and an elephant.  The boys love eating circus waffles, and they really love this recipe.  No more Eggos for us.
nb: I have recently started reducing the melted butter to three tablespoons (instead of four, and adding one tablespoon of canola oil. This makes the waffles a bit more crunchy. I have made this change to the recipe below.
Chocolate Chip Waffles
Recipe from foodnetwork.com

1 3/4 cups all-purpose flour
1 3/4 teaspoons baking powder
1/8 teaspoon fine salt
2 large eggs, at room temperature
1 large egg white, at room temperature
1 1/2 cups milk, at room temperature
1/2 teaspoon pure vanilla extract
3 Tablespoons unsalted butter, melted, plus more for brushing the iron
1 Tablespoon canola or vegetable oil
1/4 cup sugar
3/4 cup mini-chocolate chips

Preheat a waffle iron to medium-high.

Whisk the flour, baking powder, and salt in a large bowl.

Separate the 2 eggs and put all the whites in a large bowl.

In a large liquid measuring cup or medium bowl, whisk the egg yolks, milk, vanilla,  melted butter and oil. Whisk the milk mixture into the flour mixture until a batter is formed. Take care not to over mix the batter.

Whip the egg whites with a hand-held electric mixer or whisk, until they just begin to hold a loose peak. Scatter the sugar over the whites and continue beating until they hold a soft peak. Fold a third of the egg whites into the batter to lighten the base, then fold in the remaining whites. Gently fold in the chocolate chips.

Brush the inside surface of the iron with butter. Pour in enough batter to barely fill each hole of the waffle iron; the amount will vary depending upon the size of the iron. (Take into consideration that the batter will spread once the lid is closed.) Close and cook until crisp and the waffle iron stops steaming, about 5 minutes. Serve as the waffles come off the iron or transfer to a rack set on a pan in preheated 200 degree F oven to keep warm. Repeat with the remaining batter.

(If the waffle iron is well seasoned or nonstick it is not necessary to brush the inner surface each time before cooking the waffles.)

Serve the waffles with syrup, jam, fresh fruit, or yogurt. Or turn into a dessert with a scoop of ice cream.

Yield:  ~12 waffles

Print This Recipe