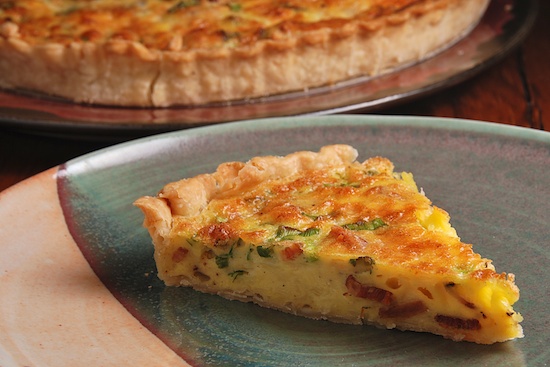 I learned a very valuable lesson while making this breakfast tart.   Pancetta is covered with a thin plastic coating.  Who knew?   You must take it off before cooking it or you'll end up with a pan of pancetta and melted plastic like I did.  Yuck!
When I found this recipe, it looked so good that I made a special trip to the supermarket to buy pancetta.   I went to the deli counter and had them slice it for me.  I wish that they had mentioned that it was covered with plastic.   I don't ever buy pancetta, so I didn't know.   Now I know, and it's something  I'll never forget.   Thank goodness I had bacon on hand so I could continue with the recipe.
Everything about this recipe is easy.   It takes very little time to put together (I found greasing and flouring the tart pan to be the most time consuming part of the recipe) and it's really delicious.   It's a great breakfast or brunch treat.  I actually ate it for dinner one night with a green salad.  It was great, although the bacon in it did remind me a bit of breakfast.   I'll definitely make this again.
Breakfast Tart with Pancetta and Green Onions
Recipe by Giada de Laurentiis

Butter, for greasing the pan
Flour, for dusting the pan
1 unroll-and-bake refrigerated 9-inch pie crust (recommended: Pillsbury)
1 egg white, lightly beaten
2 teaspoons vegetable oil
3 ounces pancetta, cut into 1/4-inch pieces
5 eggs, at room temperature, lightly beaten
1/2 cup (4 ounces) mascarpone cheese, at room temperature
2 cups (8 ounces) shredded Gruyere
3 green onions, thinly sliced
1/2 teaspoon kosher salt
1/2 teaspoon freshly ground black pepper

Special equipment: 9-inch tart pan with removable base

Put an oven rack in the center of the oven. Preheat the oven to 400 degrees F. Butter and flour the bottom and sides of a 9-inch tart pan.

Unroll the pie crust and arrange it in the prepared pan. Gently press the crust into the bottom and sides of the pan. Trim any excess crust from the top of the pan. With the tines of a fork, prick the pastry in several places. Using a pastry brush, coat the crust with the beaten egg white. Put the pan on a baking sheet and bake until the egg white has set, about 10 minutes. Allow the crust to cool for 10 minutes.

In a medium skillet, heat the oil over medium-high heat. Add the pancetta and cook, stirring frequently, until brown and crispy, about 6 to 8 minutes. Drain on a paper towel lined plate.

In a medium bowl, combine the beaten eggs, mascarpone cheese, Gruyere, green onions, salt, pepper, and pancetta. Mix until smooth. Pour the mixture into the cooled crust and bake until the mixture has set and the top is golden, about 18 minutes Cool the tart for 10 to 15 minutes then remove it from the pan to a serving platter.

Cut the tart into wedges and serve warm or at room temperature.

Cook's Note: The tart can also be made using a 10-inch tart pan. Roll out the dough to an 11-inch diameter circle before placing it in the pan. Bake the filled tart for about 23 minutes until the filling is set.

Yield: 6 – 8 servings

Print This Recipe