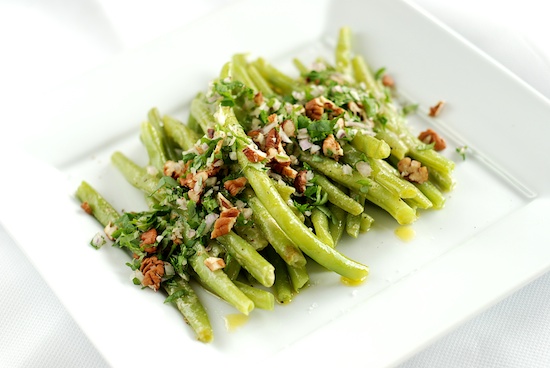 When I was growing up, my mom used to make a string bean salad that consisted of blanched green beans, tossed with a jar of Italian salad dressing. She'd keep them in a bowl in the refrigerator and I'd munch on them whenever I saw them. They were delicious, and I'd eat them as a snack during the day. I really loved them and oh how I wish my boys would enjoy snacking on vegetables during the day, but alas, no such luck.
We're in the middle of green bean season here in NY, and I've been seeing piles of them at farmer's markets, so I grabbed some the other day. I was tempted to buy a bottle of Kraft Italian dressing and make the salad I grew up with, but I decided to try a recipe from scratch.
The original recipe called for walnuts, and I only had pecans on hand so I used those. Delicious! It also calls for parsley, and I'm sure it would be excellent with parsley, but I used cilantro by mistake! I used both cilantro and parsley in a recipe a couple of days ago, and I put the remnants of both in a bag in my refrigerator. When I made this recipe, I mistakenly cut up the cilantro instead of the parsley. I didn't realize it until I ate the green beans for dinner. I'm a huge cilantro fan, so I loved the substitution, but if you don't like cilantro, stick to the parsley.
I'll definitely make this again. The dressing and topping really dress up the green beans and give them a lot of flavor.
Green Bean Salad
Recipe from Ellie Krieger at foodnetwork.com

1/2 pound green beans, trimmed
2 tablespoons chopped walnuts or pecans
2 tablespoons finely chopped fresh parsley leaves
2 tablespoons very finely chopped red onion
2 teaspoons olive oil
1 teaspoon red wine vinegar
1 teaspoon Dijon mustard
Salt and pepper

Bring a large pot of water with a steamer basket to a boil, add green beans and steam for about 4 minutes. Transfer to a serving bowl.

Toast the walnuts in a small dry skillet over medium heat until they become fragrant, about 2 minutes, and then transfer them to a small bowl to cool. Add the parsley and onion to the walnuts and stir to combine.

In another small bowl, whisk together the oil, vinegar and mustard. Toss the dressing with the green beans, top with the walnut mixture and season with salt and pepper. Serve warm or at room temperature.

Yield: 4 servings

One year ago: Minty Quinoa Tabbouleh
Two years ago: Chocolate Freckle Ice Cream
Three years ago: Very Green Broccoli Soup
Four years ago: Ham and Swiss Puff Pastry Quiche

Print This Recipe