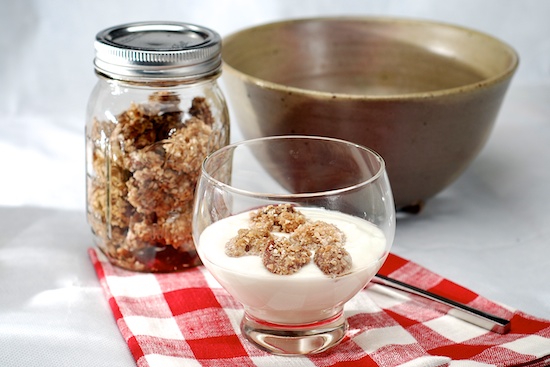 I love nuts, and especially nuts that are glazed with something. This Sugar Spiced Nuts recipe is one of my favorites. I make them all the time. I bring them to family holiday dinners and they're a huge hit.
I was visiting the Smitten Kitchen site recently and found this granola-crusted nut recipe. They looked interesting, so I decided to give it a try. They're quite different from the recipe that I usually make, but they are delicious. They're not terribly sweet, which is nice. Because of the granola-like crust, I think they're perfect as an addition to yogurt for breakfast. These have been part of my breakfast for the last week or so. They're also great straight as a snack. I've been eating them that way quite a bit as well.
I made the recipe with both pecans and walnuts and I can't decide which I like better. The granola coating stuck to them well because they're so craggy.
The recipe calls for pepitas (pumpkin seeds). I didn't have any on hand, so I substituted pine nuts. Yum!
Granola-Crusted Nuts
Recipe adapted ever-so-slightly from Smitten Kitchen

3/4 cup rolled oats (quick-cooking or old-fashioned)
1/4 cup shredded sweetened coconut
2 tablespoons pepitas, or another nut or seed of your choice
1/4 light brown sugar
1/8 teaspoon ground cinnamon
Few pinches sea salt
1 large egg white
2 teaspoons water
2 cups (approximately 1/2 pound) walnuts, pecans or your favorite nuts

Preheat oven to 300 degrees. Line a baking sheet with parchment paper. In a food processor, pulse oats, coconut, pepitas, sugar, cinnamon and salt in short bursts until the mixture is very well chopped but not powdery. In a large bowl, whisk the egg white and water until frothy (but not stiff). Add nuts to bowl and stir to coat them very well. Make sure that all of the nuts are covered entirely with the egg mixture. Pour oat mixture into bowl and very gently fold it together with the nuts, so that it just barely sticks. Don't stir too much or the topping will start to fall off the nuts.

Bake for 20 minutes. Stir nuts halfway through the baking time so the nuts cook evenly. Cook a little longer if they don't look done. When cooked, transfer pan to cooling rack and let nuts cool completely.

Yield:  2 cups of nuts

Print This Recipe