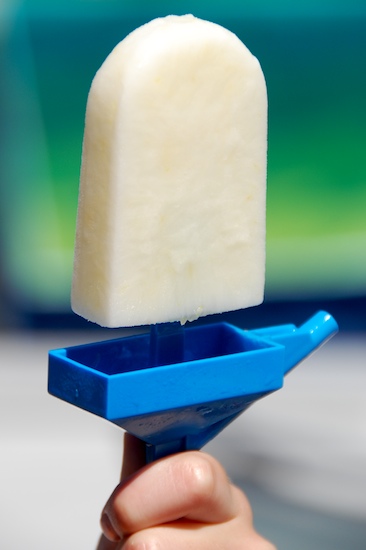 Don't let the name of the recipe or the ingredient list throw you off. I think they both sound revolting, but somehow when you mix up the ingredients, they work.  I promise.  My friend Nancy sent the recipe to me and without her endorsement, I never would have given the recipe a second look.
These pops are really unbelievable. They're tangy, they're sweet, and they have a great consistency. They reminded my husband of frozen key lime pie on a stick.
Ok, so how many of the boys do you think ate them? 3 out of 4. One son took one small bite and rejected the pop immediately. This is the son doesn't really like dairy, so I guess I shouldn't have been entirely surprised.  The other three boys loved them, even the one that doesn't like fruit. He grumbled a bit about the lemon zest, but ate it anyway.
I've been using a lot of lemons in recipes lately, so I'd like to share a few lemon tips. When you need lemon zest, the best tool in the world to use is a microplane grater. I zest my lemons first, then I slice them and juice them, but before I slice a lemon I put it on the kitchen counter, put my palm on it and roll it back and forth on the counter a couple of times while applying firm pressure. This will help the lemon to yield more juice.
I had a little trouble removing the pops from their plastic molds. This may have been because I didn't fill up my molds entirely.    I wanted to make sure I had 8 pops, so each of mine was a little short.)    When I took the pops out of the freezer after 4 hours of chilling, the sticks came right out of the pops. My husband (who can solve anything) ran the molds under hot water for a couple of seconds, and that was enough to get the pops nicely out of their molds.
You must try this recipe. It's so good.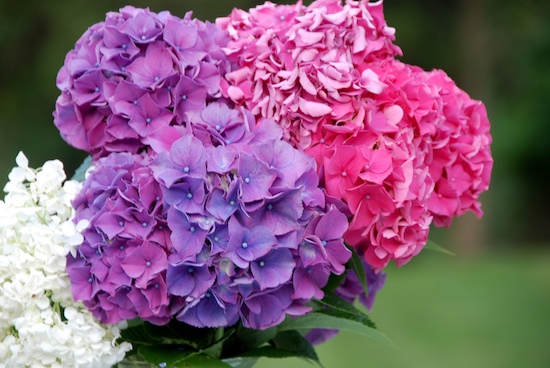 Aren't these hydrangeas beautiful? The colors are so spectacular. My friend Laura brought them today from her garden in Montauk. Thanks Laura! She and her family stopped by for dinner and a swim.  I served these ice pops for dessert.
Lemon-Buttermilk Ice Pops
Recipe from Bon Appétit,  July 2002

3/4 cup sugar
5 tablespoons fresh lemon juice (I used one very large lemon)
2 tablespoons lemon zest (I used the zest from one lemon)
Pinch of salt
1 2/3 cups buttermilk

Whisk sugar, lemon juice, lemon zest, and salt in 4-cup measuring cup until sugar dissolves. Whisk in buttermilk. Divide mixture among 8 ice pop molds (each about 1/4 to 1/3 cup capacity). Cover and freeze until firm, at least 4 hours and up to 5 days.

Yield:  6 – 8 pops

Print This Recipe