If you are a fan of Funny Bones, these cupcakes are for you. The chocolate cake recipe is amazing, as is the peanut butter filling. They taste just like Drake's Funny Bones without the chocolate coating on the outside, and with a much better chocolate cake. Funny Bones were my favorite of the Drakes cakes of my childhood. I also liked Devil Dogs, Yodels and Ring Dings, but the Funny Bones were my hands-down favorite. As far as other snack cakes went, I was never a huge fan or Twinkies or Sno Balls. I much preferred the chocolate snacks.
These cupcakes are easy to make and easy to fill. The filling comes together in no time because it only uses three ingredients: peanut butter, butter and Marshmallow Fluff. I'm not a big fan of recipes that have junk like pre-made Marshmallow Fluff in them, but when these seemed like they might taste like Funny Bones, I had to try them. They were a huge hit in our house, except with one of my sons, who still basically only eats peanut butter. He eats so much of it in sandwiches that he's turned off by anything else that has peanut butter in it. Even these!
I'm usually a frosting fan, but with the creamy peanut butter filling, these cupcakes don't need anything more than a dusting of powdered sugar. There was a little filling left over, so I frosted a couple of cupcakes with the filling. My sons ate those and raved about them.
Here's what I learned when making this recipe: when the directions say to lightly spray a muffin tin, do just that. Don't be heavy-handed with the cooking spray or it will pool at the bottom of the muffin cups. When you dust the pan with cocoa, you'll end up with a chocolatey sludge. Not ideal. Your butter definitely wants to be at room temperature before you use it in the frosting.
This is going to be one of my go-to chocolate cupcake recipes, even if I don't fill them. I loved the texture and flavor of the cake.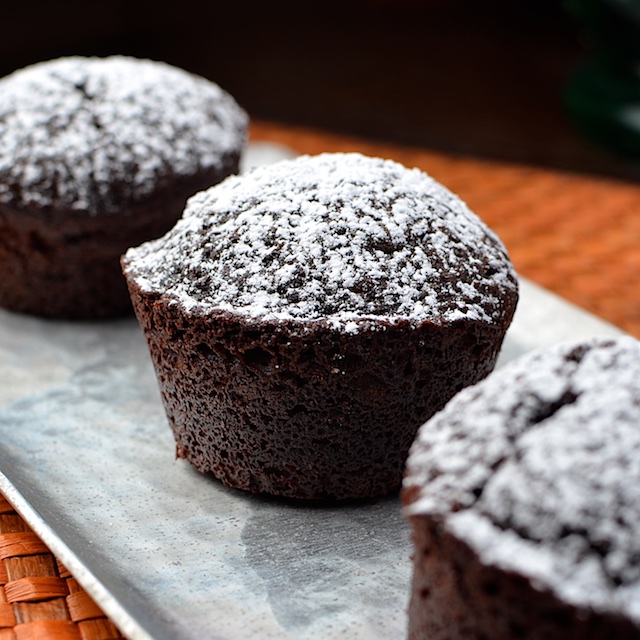 Peanut Butter Filled Chocolate Cupcakes
Recipe from Martha Stewart

Cooking spray
3/4 cup unsweetened cocoa powder, plus more for pan
1 1/2 cups all-purpose flour
1 1/2 cups granulated sugar
1 1/2 teaspoons baking soda
3/4 teaspoon baking powder
3/4 teaspoon fine salt
2 large eggs
3/4 cup buttermilk
3/4 cup warm water
3 tablespoons vegetable oil
6 tablespoons unsalted butter, room temperature
1/2 cup creamy peanut butter
1 1/2 cups marshmallow creme
Confectioners' sugar, for dusting

Preheat oven to 350 degrees. Lightly coat 12 standard muffin cups with cooking spray, then dust with cocoa, tapping out excess. In a large bowl, whisk together cocoa, flour, granulated sugar, baking soda, baking powder, and salt. Using a mixer, beat in eggs, buttermilk, oil, and 3/4 cup water on medium until smooth, about 3 minutes.

Divide batter among cups and bake until a toothpick inserted in center of a cake comes out clean, about 20 minutes. Let cool in pan on a wire rack 5 minutes, then remove cupcakes and let cool completely on rack.

In a large bowl, using mixer fitted with the paddle attachment, beat butter and peanut butter on high until fluffy, 3 minutes; fold in marshmallow topping. Transfer to a zip-top bag and cut off one corner to make a 1/2-inch opening.

With a melon baller, scoop out center of each cupcake base and set aside (these pieces will plug cupcakes after filling). Hollow out each cupcake a bit more, discarding crumbs. Fill cavities with peanut butter mixture and replace plugs. (Refrigerate in an airtight container, up to 1 week.) To serve, dust with confectioners' sugar.

Yield: 18 cupcakes

Two years ago: Chicken, Ham and Cheddar Roll-Ups
Three years ago: Orange-Scented Almond and Olive Oil Muffins
Four years ago: Coconut Blondies
Five years ago: Asian Pork Tenderloin
Six years ago: Black Bean Brownies
Seven years ago: Sugar Spiced Nuts

Print This Recipe