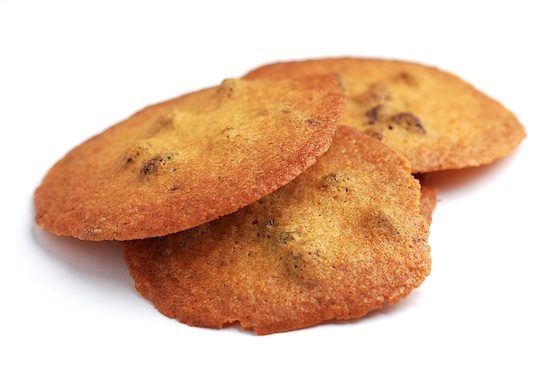 If you like thin and crispy chocolate chip cookies, these are for you. The recipe comes from Tate's Bake Shop in Southampton, NY.
We went to visit my parents last weekend and I brought a box of chocolate chip cookies from Gourmet Garage which I thought were pretty good. They're soft and chewy. My mother had a couple of packages of Tate's chocolate chip cookies that she served next to the ones that I brought. I went right for the soft and chewy ones. My husband made a beeline for the Tate's cookies. I wondered why, so I did a little taste test. The soft and chewy cookies that I thought I liked couldn't hold a candle to the Tate's cookies. I have definitely been missing out all these years.
When we left my parent's house, I was determined to make a version of Tate's thin and crispy cookies. On my first try, I succeeded. I brought some to our book club meeting the other night and they received rave reviews. My friend Greg said that they were the second best cookie he has ever tasted. I asked what his favorites were. These.
There is no great trick to getting thin and crispy cookies. It's all in the proportion of the ingredients that you use.
My father-in-law LOVED thin and crispy chocolate chip cookies.   I wish he were alive to taste these.   I know he would have loved them.  I miss him.



Tate's Bake Shop Chocolate Chip Cookies
Recipe from Tate's Bake Shop Cookbook by Kathleen King

2 cups all-purpose flour
1 teaspoon baking soda
1 teaspoon salt
1 cup salted butter
3/4 cup sugar
3/4 cup firmly packed dark brown sugar
1 teaspoon water
1 teaspoon vanilla
2 large eggs
2 cups semisweet chocolate chips

Preheat the oven to 350 degrees F. Grease two cookie sheets or line them with Silpat.    In a large bowl, stir together the flour, baking soda, and salt.   In another large bowl, cream the butter and sugars. Add the water and vanilla. Mix the ingredients until they are just combined.  Add the eggs and mix them lightly. Stir in the flour mixture. Fold in the chocolate chips. Don't over-mix the dough.

Drop the cookies 2 inches apart onto the prepared cookie sheets using two tablespoons or an ice cream scoop.  Bake them for 12 minutes or until the edges and centers are brown. Remove the cookies to a wire rack to cool.

Yield:  Four and a half dozen 3-inch cookies


Print This Recipe