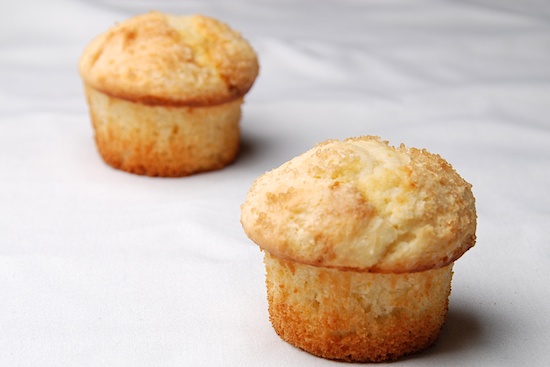 I thought these muffins were pretty good – I definitely like other muffins better, but my boys really liked them, so I'm posting them so I have the recipe on hand.    Despite the fact that these look like muffins, they have a consistency that's more like biscuits.  They're quite dense and they reminded me of Italian bakery cookies that I had as a child.
I took a chance on this recipe because I'm always looking for new ways to get a little extra protein into the boys and when I saw the cup of whole-milk ricotta on the ingredient list I decided to give them a shot.  I didn't have any sliced almonds for the top of the biscuits, so I skipped them and I don't think the biscuits suffered at all.
I found this recipe on the FoodNetwork site, and it got more than 100 rave reviews, so if you like the flavors of lemon and almond together and you're looking for something new and different to serve for breakfast or lunch, give these a shot.   Like I said, the boys really liked them.
Nonna's Lemon Ricotta Biscuits
Recipe from Giada deLaurentiis at foodnetwork.com

2 cups all-purpose flour
1/2 teaspoon baking powder
1/2 teaspoon baking soda
1/2 teaspoon salt
1 cup plus 1 teaspoon sugar or more as needed for sprinkling
1/2 cup (1 stick) unsalted butter, room temperature
1 tablespoon finely grated lemon zest (from 2 lemons)
1 cup whole-milk ricotta cheese
1 large egg
1 tablespoon fresh lemon juice
1/2 teaspoon almond extract
1/3 cup thinly sliced almonds

Line 12 muffin cups with paper liners. Preheat the oven to 350 degrees F.

Whisk the flour, baking powder, baking soda, and salt in a medium bowl to blend. Using an electric mixer, beat 1 cup sugar, butter, and lemon zest in a large bowl until light and fluffy. Beat in the ricotta. Beat in the egg, lemon juice, and almond extract. Add the dry ingredients and stir just until blended (the batter will be thick and fluffy).

Divide the batter among the prepared muffin cups. Sprinkle the almonds and then the remaining 1 teaspoon of sugar over the muffins. Bake until the muffins just become pale golden on top, about 20 minutes. Cool slightly. Serve warm or at room temperature.

Yield:  12 biscuits

Print This Recipe