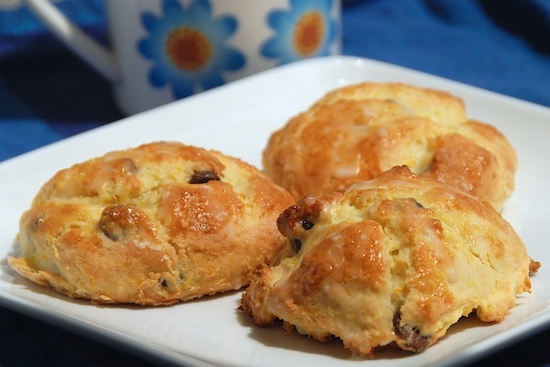 Ok, so these were really supposed to be cranberry orange scones, but I knew that if I tried to put a single cranberry in them, they would have been patently rejected by the boys. Chocolate chips are safe. Cranberries, no way. I think I would have prefered them with cranberries, but that will have to wait until I make them again. Next time maybe I'll put cranberries in half the batch and chocolate chips in the other. If you choose to make this recipe using cranberries, the original recipe called for 1 cup of dried cranberries. Use them in lieu of the chocolate chips listed below.
The boys asked me to make these again the afternoon that I made them. They thought they were that good. I thought they were pretty good, but I'm not a huge scone fan. I prefer muffins.
When you make this, please follow the directions exactly. You definitely want your butter to be cold and you should stop mixing when the butter is the size of peas. It will definitely look lumpy when you're finished with it, and that's perfectly ok. You may also find that the dough is very sticky and can be a little difficult to work with. I found that I needed a well floured surface for rolling the dough, and I also had to keep sprinkling the dough with flour so it wouldn't stick to the rolling pin. The extra flour didn't hurt the scones at all.
When I made the glaze, I found it to be a bit runny, so I added some extra confectioners sugar until I got it to the consistency that I wanted.   Mine was still a bit on the runny side, but it was delicious.   I loved the fresh orange juice in the glaze. These scones were a nice change from the muffins, pancakes and waffles that I make all the time for breakfast.
Orange Scones with Chocolate Chips
Adapted from an Ina Garten recipe

4 cups plus 1/4 cup all-purpose flour
1/4 cup sugar, plus additional for sprinkling
2 tablespoons baking powder
2 teaspoons kosher salt
1 tablespoon grated orange zest
3/4 pound cold unsalted butter, diced
4 extra-large eggs, lightly beaten
1 cup cold heavy cream
3/4 cup chocolate chips
1 egg beaten with 2 tablespoons water or milk, for egg wash
1/2 cup confectioners' sugar, plus 2 tablespoons
4 teaspoons freshly squeezed orange juice

Preheat the oven to 400 degrees F.

In the bowl of an electric mixer fitted with a paddle attachment, mix 4 cups of flour, 1/4 cup sugar, the baking powder, salt and orange zest. Add the cold butter and mix at the lowest speed until the butter is the size of peas. Combine the eggs and heavy cream and, with the mixer on low speed, slowly pour into the flour and butter mixture. Mix until just blended. The dough will look lumpy! Combine the chocolate chips and 1/4 cup of flour, add to the dough, and mix on low speed until blended.

Dump the dough onto a well-floured surface and knead it into a ball. Flour your hands and a rolling pin and roll the dough 3/4-inch thick. You should see small bits of butter in the dough. Keep moving the dough on the floured board so it doesn't stick. Flour a 3-inch round plain or fluted cutter (or just use a juice glass as I did) and cut circles of dough. Place the scones on a baking pan lined with parchment paper. Collect the scraps neatly, roll them out, and cut more circles.

Brush the tops of the scones with egg wash, sprinkle with sugar, and bake for 20 to 25 minutes, until the tops are browned and the insides are fully baked. The scones will be firm to the touch. Allow the scones to cool for 15 minutes and then whisk together the confectioners' sugar and orange juice, and drizzle over the scones.

Yield: 14 – 16 scones

Print This Recipe