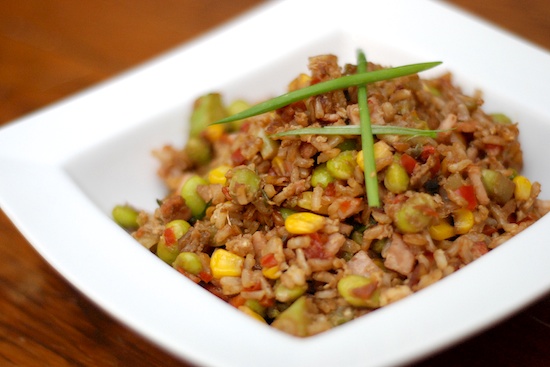 Recipes from the Fine Cooking magazine or website never let me down. One recipe is better than the next. My niece made this last week and suggested that I try it. A couple of friends came by for dinner last week so I made these risotto cakes and this five-treasure fried rice. I can't say that they went together very well, but individually each was very good. They both made excellent left-overs. I'll certainly make this fried rice again. It was really super the next day for lunch.
This fried rice is very pretty as it's cooking. The initial vegetable saute is bright with color. I used the vegetables called for in the recipe, but this recipe is very flexible and you can use other vegetables if you have them on hand.
When I made this, I used extra vegetables. I used a very generous 3/4 cup of the edamame, carrots and corn. I probably used closer to a cup of each, and in the end it was delicious.   I went a little overboard on the Canadian bacon as well.  I bought a 6 oz. package and decided to use all of it.  Between all of the fresh vegetables and the brown rice, this is a pretty healthy recipe. My husband and I loved it. I kept suggesting that the boys try it, but I had no takers. They didn't like the look of it at all – too many things mixed together. I personally can't wait to make this again.
There's one trick to making this – you must have COLD brown rice. This means making the rice several hours before you need it, and refrigerating it. if you use freshly cooked rice that hasn't been chilled, you'll end up with gummy fried rice.
Five-Treasure Fried Rice
Recipe from Fine Cooking, December 2008

2 Tbs. canola oil
1 cup peeled, finely diced broccoli stems (from about 1-1/4 lb. broccoli)
3/4 cup finely diced carrots
3/4 cup finely diced red bell pepper
3/4 cup frozen shelled edamame
3/4 cup corn kernels, fresh or frozen
4 scallions (both white and green parts), thinly sliced
2 Tbs. finely grated fresh ginger
2 large cloves garlic, minced
4 cups very cold cooked brown rice
3/4 cup finely diced Canadian bacon (4 oz.)
2 large eggs, lightly beaten
1/4 cup lower-sodium soy sauce

Heat all but 1 tsp. of the oil in a large nonstick skillet or stir-fry pan over medium-high heat. Add the broccoli stems, carrots, and bell pepper and cook, stirring frequently, until the vegetables begin to soften, 3 to 5 minutes. Add the edamame and corn and cook until the edamame is thawed, about 1 minute. Add the scallion, ginger, and garlic and cook, stirring, until the raw garlic aroma subsides, about 1 minute. Add the rice and Canadian bacon and cook, stirring, until heated through, 3 to 5 minutes.

Make a 3-inch well in the center of the rice mixture. Add the remaining 1 tsp. oil, then the eggs, and cook, stirring, until the eggs are almost fully scrambled. Stir the eggs into the rice mixture. Stir in the soy sauce and serve.

Yield: 4 – 6 servings

One year ago: Cream Biscuits
Two years ago: Cinnamon Muffins

Print This Recipe