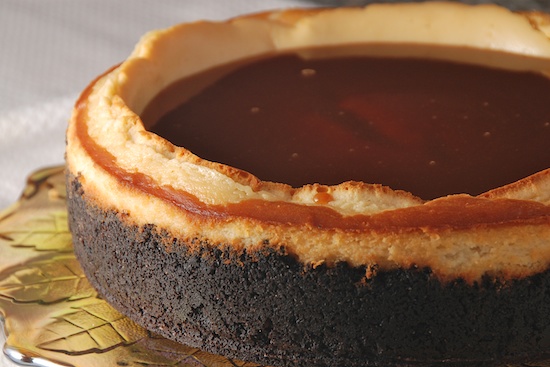 Charles and I went to our book club meeting on Sunday night, which always includes a potluck dinner, and I was responsible for dessert.  I brought this cheesecake, and in the event that someone didn't like cheesecake, I brought a batch of these lemon squares as well. Charles snapped a picture of the cheesecake seconds before we were heading out the door. In retrospect, I wish I had brought a camera to book club because the cheesecake was really pretty when it was sliced up.
Our book club read The Art of Racing in the Rain by Garth Stein. If you're looking for a quick, entertaining read, I recommend it.   If you're a dog-lover this is a must-read.   I think it would be a perfect book to bring on vacation. I categorize books like this as great 'beach reads'.
If you're going to try this cheesecake, be aware that you have to make it either the night before you need it or at least 9 or 10 hours before you intend to eat it because ideally it needs to chill for at least 8 hours before you serve it.
Everyone at our book club really liked the cheesecake. That said, our friend Len suggested that I add more Bailey's next time. I'll try to add a little more next time to see if it boosts the flavor. Too bad they don't make a Bailey's Irish Cream extract. I'll definitely make this cheesecake again. I thought it was really delicious, and it looked great too.
Irish Cream Caramel Cheesecake
Recipe from Fine Cooking Magazine, March 2010

For the crust:

8 oz. chocolate wafers, finely crushed (2 cups of crumbs)
3 Tbs. granulated sugar
7 Tbs. unsalted butter, melted

For the filling:
4   8-oz. packages cream cheese, at room temperature
2 Tbs. all-purpose flour
Table salt
1-1/4 cups granulated sugar
3 Tbs. Baileys
1 Tbs. pure vanilla extract
4 large eggs, at room temperature
For the caramel topping:
1/2 cup granulated sugar
1/2 cup heavy cream
2 Tbs. unsalted butter

Make the crust:
Position a rack in the center of the oven and heat the oven to 375°F.

In a medium bowl, stir together the chocolate wafer crumbs and 3 Tbs. granulated sugar. Mix in the melted butter until the crumbs are evenly moist and clump together slightly. Transfer the mixture to a 9-inch springform pan and press evenly onto the bottom and about 2 inches up the sides of the pan (to press, use plastic wrap or a flat-bottom measuring cup). Bake until the crust is fragrant and slightly darkened, 9 to 12 minutes. Let the pan cool on a rack. Lower the oven temperature to 300°F.

Fill and bake the cheesecake:
In a stand mixer fitted with the paddle attachment, beat the cream cheese, flour, and a pinch of table salt on medium speed, scraping down the sides of the bowl and the paddle frequently, until very smooth and fluffy, about 5 minutes. Make sure the cheese has no lumps. Add the 1-1/4 cups granulated sugar and continue beating until well blended and smooth.

Add the Baileys and vanilla and beat until blended, about 30 seconds. Add the eggs one at a time, beating just until blended. (Don't overbeat once the eggs have been added or the cheesecake will puff too much and crack as it cools.) Pour the filling into the cooled crust and smooth the top.

Bake at 300°F until the center jiggles like Jell-O when nudged, 55 to 65 minutes. The cake will be slightly puffed around the edges, and the center will still look moist. Set on a rack and cool completely. Cover and refrigerate until well chilled, at least 8 hours and up to 3 days. The cake can also be frozen at this point for up to 1 month.

Top and serve:
In a 2-quart saucepan, combine the 1/2 cup granulated sugar and 3 Tbs. water and cook over low heat, stirring occasionally, until the sugar is dissolved and the liquid is clear, 2 to 3 minutes. Increase the heat to medium high and cook without stirring until the sugar begins to turn golden-brown on the edges. Gently swirl the pan over the heat to even out the color, and cook until the sugar turns golden-amber, 3 to 5 minutes. Off the heat, carefully add the cream, butter, and a pinch of table salt. Cook, whisking constantly over medium-low heat until well blended and smooth. Set aside until the caramel has cooled, about 15 minutes.

Unclasp and remove the side of the springform pan and run a long, thin metal spatula under the bottom crust of the cheesecake. Carefully slide the cake onto a flat serving plate. Pour the caramel topping onto the cheesecake and spread evenly.

To cut, run a thin knife under hot water, wipe it dry, and cut the cake into slices, heating and wiping the knife after every slice.

Yield: 10 – 12 servings

Print This Recipe