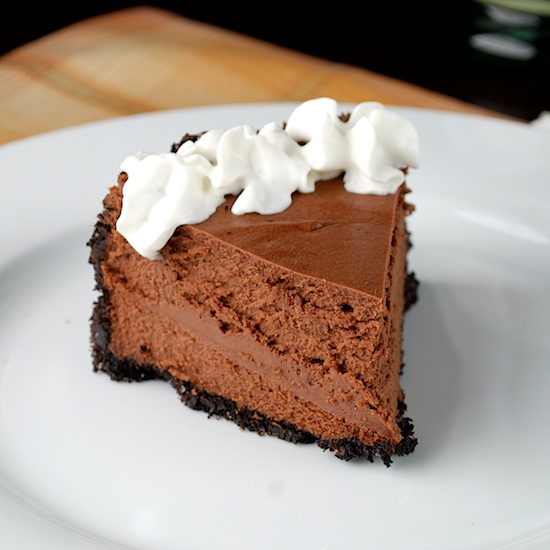 If you like cheesecake and you like chocolate, this recipe is a winner.   It's absolutely delicious.   I'd be happy eating a slice after dinner every night.   It's rich though, so I'd want a small slice.
I made this to serve as dessert for my St. Patrick's Day dinner.  I made it because both my mom and dad enjoy cheesecake, as does my husband and two of my boys.   Since it was an Irish dinner, I decided to top the cake with some fresh whipped cream flavored with Bailey's Irish Cream.    I whipped some heavy cream, dumped in a teaspoon of vanilla, some confectioners sugar to taste and 2-3 tablespoons of Baileys.   It was decadent, especially served on top of the rich cheesecake, but it was incredible.   The whipped cream in the photo is straight from a can.   We inhaled the Baileys whipped cream at dinner, leaving not a drop in the bowl, so I didn't have any to photograph.
The cookie base was ever so slightly flavored with cinnamon.  If you're not a cinnamon and chocolate fan, you can leave the cinnamon out.  It will be equally as good without it.  I recommend buying decent bittersweet chocolate for this recipe, since the flavor is so prominent in the cake.
This cheesecake is supposed to freeze well,  I can't personally attest to that because we polished it off in no time.   That said, cheesecakes made with sour cream are known for freezing well.  This is now my go-to chocolate cheesecake recipe.
Triple Chocolate Cheesecake
Recipe from Fine Cooking

For the crust:
1-1/2 cups very finely crushed chocolate cookie crumbs (I use about 30 Nabisco Famous Chocolate Wafers)
3 Tbs. granulated sugar
1/8 tsp. ground cinnamon (optional)
1/4 cup unsalted butter, melted

For the filling:
1/2 cup sour cream
2 tsp. pure vanilla extract
1 tsp. instant coffee granules or espresso powder
8 oz. bittersweet chocolate, finely chopped
3 packages (8 ounces each) cream cheese, at room temperature
3 Tbs. natural, unsweetened cocoa powder, sifted if lumpy
1/4 tsp. table salt
1-1/4 cups granulated sugar
3 large eggs, at room temperature

Make the crust: Heat the oven to 400°F. In a medium bowl, stir together the cookie crumbs, sugar, and cinnamon (if using) until blended. Drizzle with the melted butter and mix until well blended and the crumbs are evenly moist. Dump the mixture into a 9-inch springform pan and press evenly onto the bottom and about 1 inch up the sides of the pan (to press, use plastic wrap, a straight-sided, flat-based coffee mug, or a tart tamper). Bake for 10 minutes and set on a wire rack to cool. Reduce the oven temperature to 300°F.

Make the filling and bake: Mix the sour cream, vanilla, and coffee granules in a small bowl. Set aside and stir occasionally until the coffee dissolves.

Melt the chocolate in a double boiler over medium heat (or in a microwave). Stir until smooth. Set aside to cool slightly.

In a stand mixer fitted with the paddle attachment, beat the cream cheese, cocoa powder, and salt until very smooth and fluffy, scraping down the sides of the bowl and paddle frequently (and with each subsequent addition). Add the sugar and continue beating until well blended and smooth. Scrape the cooled chocolate into the bowl; beat until blended. Beat in the sour cream mixture until well blended. Add the eggs, one at a time, and beat until just blended. (Don't overbeat the filling once the eggs have been added or the cheesecake will puff too much.) Pour the filling over the cooled crust, spread evenly, and smooth the top. Bake at 300°F until the center barely jiggles when nudged, 50 to 60 minutes. The cake will be slightly puffed, with a few little cracks around the edge. Let cool to room temperature on a rack and then refrigerate until well chilled, at least a few hours, or overnight for the best texture and flavor. (This cake freezes well, too: Put the unmolded cake in the freezer, uncovered, until the top is cold and firm, and then wrap it in two layers of plastic and one layer of foil.)

To serve: Unclasp the pan's ring, remove it, and run a long, thin metal spatula under the bottom crust. Carefully slide the cake onto a flat serving plate. Run a thin knife under hot water, wipe it dry, and cut the cake into slices, heating and wiping the knife as needed.

Yield:  ~10 servings  (the recipe said 16, but they'd be pretty thin slices)

Two years ago:  Chocolate Frosting

Print This Recipe