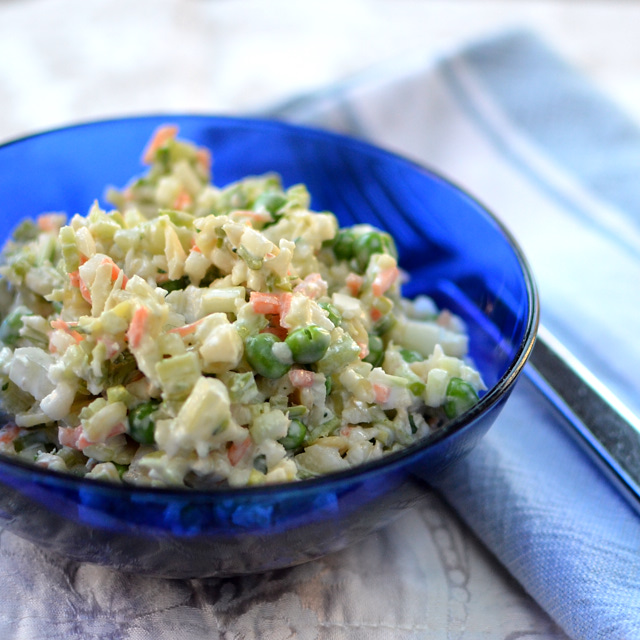 Spring is finally in the air in NYC, and this is a perfect salad for the season. It's full of lots of fresh, raw vegetables. It reminds me a bit of a cole slaw, in chopped form. The original recipe called for 6 slices of bacon, chopped and stirred into the salad. I left that out, hoping that my vegetarian son might enjoy this, but no such luck. Although everything is better with bacon, I didn't mind this salad without it. I will make this again using vegetarian bacon strips, and encourage my son to try it again.
The trick to making this salad come together in no time flat, is to live near a Trader Joe's. They sell bags of riced broccoli and riced cauliflower. The recipe calls for 3 cups of finely chopped broccoli. The TJs bag has slightly more than 3 cups, but I dumped the whole bag in anyway. Same for the cauliflower. I didn't want to have little bits of vegetables left in my refrigerator. In order to speed up the chopping of the carrots, I bought a bag of slivered carrots, and took a big knife to them to cut them in smaller pieces. The celery was the only vegetable that I had to spend a few minutes chopping.
The original recipe called for peanuts, but I prefer sliced almonds, so I used them. Delicious!
Be warned, this recipe makes enough to feed an army. My husband and I have been eating it for several days now, and we still haven't finished it, AND I gave some away to a girlfriend knowing that we would never finish it. She and her family are now eating it for days too.
I think this would be delicious at a summer picnic, or a summer barbecue.
Chopped Veggie Salad
Recipe modified from Taste of Home

3 cups finely chopped fresh broccoli
3 cups finely chopped cauliflower
1.5 cups finely chopped celery
1.5 cups finely chopped carrots
2 cups frozen peas (about 8 ounces), thawed
1-1/3 cups mayonnaise
1/4 cup sugar
2 tablespoons grated Parmesan cheese
1 tablespoon cider vinegar
1/4 teaspoon salt
3/4 cup sliced almonds

In a large bowl, combine the first five ingredients. In a small bowl, mix mayonnaise, sugar, cheese, vinegar and salt until blended. Add to salad and toss to coat. Stir in almonds. Refrigerate leftovers.

Yield: ~12 servings

One year ago: Chocolate Babka
Two years ago: Lemon Fusilli with Arugula
Three years ago: Broccoli, Cheddar and Wild Rice Casserole
Four years ago: Buttermilk Chocolate Chip Muffins
Five years ago: Soft Chocolate Cookies with Peanut Butter Frosting
Six years ago: Black Bean Soup with Sherry
Seven years ago: Baked Tortilla Chips
Eight years ago: Brazilian-Style Collard Greens
Nine years ago: Wheatberry Salad

Print This Recipe