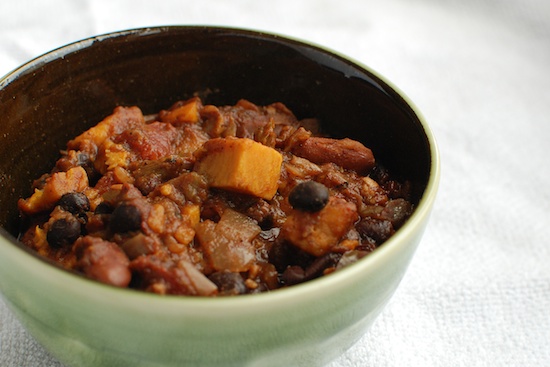 I made this chili last weekend.   My sister-in-law used a similar recipe recently and talked about how great it was.    I love the fact that this cooks in a slow-cooker.   I threw everything in the slow-cooker at noon and by 5pm our dinner was ready.   We didn't eat until 6pm, and the chili was fine sitting in the slow-cooker on low until then.
It takes no time at all to throw these ingredients into the crock pot.   A couple of quick stirs and you're off and running.   I loved the fact that I was able to take the boys to the park while the dinner was cooking on its own!   I'm always a little nervous leaving the house while the slow-cooker is on, so I added a little extra water before I left just to make sure it didn't dry out and burn while I was gone.  It was fine!   It was so nice to walk back into the apartment with the boys knowing that I'd have to do very little to put dinner on the table (other than prepare meals for the boys who would never touch this chili with a four-foot pole!  They have no idea what they're missing.)
The recipe calls for 1 Tbsp. of chili powder. I have a jar of Ancho chili powder, so I substituted 1/2 Tbsp. Ancho chili powder for the regular chili powder and it gave the dish a nice little kick. My sweet potato was slightly larger than 8 oz. I looked for the biggest one that I could find because I really love sweet potatoes.
I served this over brown rice and it was really, really delicious.   I've also eaten it without the rice.  Either way it's great.  It's an incredibly hearty vegetarian meal.
Slow-Cooker Vegetarian Chili with Sweet Potatoes
Recipe from realsimple.com

1 medium red onion, chopped
1 green bell pepper, chopped
4 garlic cloves, chopped
1 tablespoon chili powder (I used 1/2 tablespoon chili powder and 1/2 tablespoon Ancho chili powder)
1 tablespoon ground cumin
2 teaspoons unsweetened cocoa powder
1/4 teaspoon ground cinnamon
kosher salt and black pepper
1 28-ounce can fire-roasted diced tomatoes
1 15.5 ounce can black beans, rinsed
1 15.5 ounce can kidney beans, rinsed
1 medium sweet potato (about 8 ounces), peeled and cut into 1/2 inch pieces
Optional:  sour cream, sliced scallions and tortilla chips for serving

In a 4- to 6-quart slow cooker, combine the onion, bell pepper, garlic, chili powder, cumin, cocoa, cinnamon, 1 teaspoon salt and ¼ teaspoon black pepper. Add the tomatoes (and their liquid), beans, sweet potato, and 1 cup water.

Cover and cook until the sweet potatoes are tender and the chili has thickened.  The original recipe suggests cooking on low for 7 to 8 hours or on high for 4 to 5 hours.   I found that cooking on low for 5 hours was plenty of time.  Add additional water if the chili seems to be getting dry while it's cooking.   Serve the chili with the sour cream, scallions and tortilla chips if desired.  I served mine plain.

Yield: 4 servings

One year ago: Tofu and Onions in Caramel Sauce
Two years ago: Cinnamon Sugar Rattle Snacks
Three years ago: Wheatberry Salad

Print This Recipe