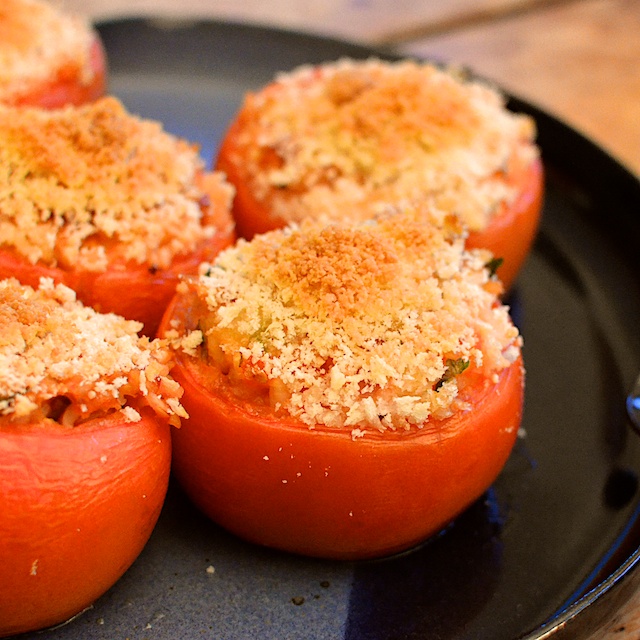 This has become a weekly staple in our house since tomato season began in August. This makes a great side-dish, and can also stand on its own as a vegetarian main course. I love to eat one for lunch as a left-over. It's just the right size to be filling enough, but not too much.
You can play with the herbs in this recipe. When I made this on Shelter Island, I used a mixture of fresh oregano, basil and parsley from the garden. Now that I'm back in NYC, I don't splurge on multiple packages of herbs, I just use basil, and the tomatoes are still delicious. I'm about to start my Aerogarden for the fall. I'm filling it with herbs so in a couple of weeks I'll be able to mix my herbs again, that is, if there are any tomatoes left at the farmer's market.
In addition to playing with the herbs, you can play with the cheese in this recipe. I tried it once by adding Parmesan cheese to the breadcrumbs. I also added diced, smoked mozzarella to the rice mixture. This is my favorite addition to the recipe. You can use other cheeses as well, if you don't like smoked mozzarella.
Give these tomatoes a try, and play with the ingredients. The recipe is very forgiving.
Risotto-Stuffed Tomatoes
Recipe from Smitten Kitchen

2 to 3 tablespoons olive oil
Kosher salt
6 medium-to-large tomatoes
Red pepper flakes, to taste
1 small to medium onion, finely chopped
1 garlic clove, minced
9 tablespoons arborio rice
Few tablespoons chopped parsley, oregano or slivered basil (or a mixture of all)
1/2 ball of smoked mozzarella cheese, chopped into small chunks
Handful breadcrumbs

Heat oven to 350 degrees. Lightly coat an ovenproof baking dish with olive oil.

Cut the tops off the tomatoes and scoop out tomato juices, seeds and flesh into a blender. I used a paring knife to loosen the internal flesh from the tomato, then a spoon to remove the rest. Salt the cavities of the tomatoes and turn them upside down on a plate to drain.

Pulse the insides of the tomatoes in a blender until coarsely pureed. Heat a large skillet over medium heat, then add 2 tablespoons olive oil, heating it too. Once hot, add onion, garlic and red pepper flakes, cooking them together for 2 minutes, or until onion begins to soften. Add rice and cook them together, stirring, for about 3 minutes. Add tomato puree and bring to a simmer, then reduce heat to medium-low. Season with 3/4 teaspoon salt, then cover skillet with a lid, and let simmer for 10 to 15 minutes, stirring occasionally, until rice is par-cooked.

Stir fresh herbs and diced mozzarella into tomato-rice mixture. Adjust seasoning if needed. Arrange tomatoes right-side-up in baking pan then spoon mixture into tomatoes, filling them nearly all the way, using all of the rice mixture. Top the tomatoes with breadcrumbs and drizzle lightly with olive oil.

Bake uncovered for 30 – 35 minutes, until tomato walls are soft and the rice inside has finished cooking. Serve hot.

Yield: 6 servings as a side dish, or 3 servings as an entree

One year ago: Spinach and Ricotta Lasagna
Two years ago: Grilled Pork Chops with Garlic Lime Sauce
Three years ago: Pepper Jack, Peach and Chicken Quesadillas
Four years ago: Mar-A-Lago Turkey Burgers
Five years ago: Chocolate Zucchini Cake

Print This Recipe