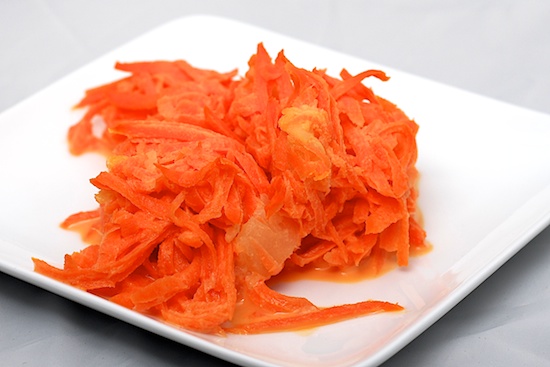 The other night I was looking for a quick and easy side dish – and one that I might get the boys to try. A couple of them will begrudgingly eat a baby carrot or two when pressed, so I figured this was a natural extension to baby carrots. It's funny – although I can push two of them to eat baby carrots, there's no way they'll eat cooked carrots. For some reason, cooked carrots make them gag. Go figure.
Anyway, if you have a food processor, this recipe takes no time at all to make. It's a perfect year-round side dish, although it reminds me of the summer because it's served cold and it's so similar to cole slaw.
I really loved the flavor of this dish and I'll definitely make it again. The only problem I had with it is that it becomes very soupy. A broth forms that makes it almost like a cold carrot soup. I didn't really like it that way, so I drained it before I served it.
Did the boys try it? Yes (under duress). Did they like it? Nope!

Barefoot Carrot Salad
Adapted from recipe by Ina Garten

1 pound carrots
2 tablespoons freshly squeezed lemon juice
1/4 cup sour cream
1/4 cup mayonnaise
3 tablespoons sugar
1/2 teaspoon salt
1/3 cup diced fresh pineapple or crushed canned pineapple (drained well)

Put the grating blade on your food processor. Cut the carrots in half and place in the feed tube so they are lying on their sides. Process in batches. Place the grated carrots in a medium bowl, add the fresh lemon juice and toss.

To make the dressing, whisk together the sour cream, mayonnaise, sugar and salt. Pour the dressing over the carrots and add the pineapple. Toss together and serve.


Yield 2-3 servings

One year ago: Cauliflower and Parmesan Cake
Two years ago: Krumkake
Three years ago: Snickerdoodles