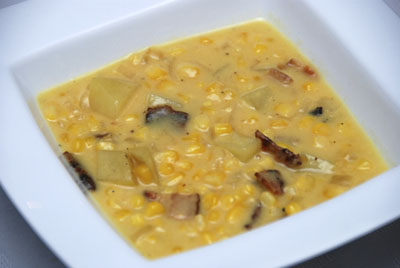 When it's cold outside, I don't think there's anything better than a warm, hearty bowl of soup or chowder. I make this recipe a couple of times each winter because I enjoy it so much. It makes quite a bit, so I typically end up sharing it with friends or freezing some of it. I have also cut the recipe in half when I don't want to make so much.
This recipe suggests that you garnish each serving with bacon. When I make it, I just dump all of the bacon into the soup and stir it in.
I post yet another recipe that my sons won't touch! I look forward to the day that I report that my boys will at least try the things I make. I really don't understand how they can turn their noses up at this soup – it looks, smells and tastes so delicious!
Cheddar Corn Chowder
From The Barefoot Contessa Cookbook

8 ounces bacon, chopped (I use the frozen bacon from Costco)
1/4 cup good olive oil
6 cups chopped yellow onions (~4 large onions)
4 tablespoons (1/2 stick) unsalted butter
1/2 cup flour
2 teaspoons kosher salt
1 teaspoon freshly ground black pepper
1/2 teaspoon ground turmeric
12 cups chicken stock
6 cups medium-diced white boiling potatoes, unpeeled (2 pounds)
10 cups corn kernels, fresh (10 ears) or frozen (3 pounds)
2 cups half-and-half
8 ounces sharp white cheddar cheese, grated

In a large stockpot over medium-high heat, cook the bacon and olive oil until the bacon is crisp, about 5 minutes. Remove the bacon with a slotted spoon and reserve. Reduce the heat to medium, add the onions and butter to the fat, and cook for 10 minutes, until the onions are translucent.Stir in the flour, salt, pepper, and turmeric and cook for 3 minutes. Add the chicken stock and potatoes, bring to a boil, and simmer uncovered for 15 minutes, until the potatoes are tender. If using fresh corn, cut the kernels off the cob and blanch them for 3 minutes in boiling salted water. Drain. (If using frozen corn you can skip this step.) Add the corn to the soup, then add the half-and-half and cheddar. Cook for 5 more minutes, until the cheese is melted. Season, to taste, with salt and pepper. Serve hot with a garnish of bacon.

Yield: 10-12 servings