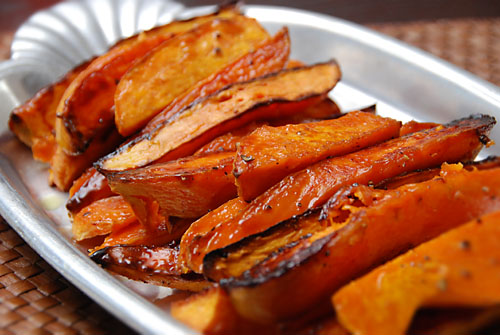 I made these the other night and then again tonight.   I can't stop eating them;  they're one of those foods that I can eat until I'm sick.  I think this is definitely one of my favorite side dishes.   They're called 'fries', but they're not as crispy as traditional french fries.   You definitely don't pick these up by hand – they call for a knife and fork.
Let me tell you a little about sweet potatoes.   They're another one of those vegetables that are packed with nutrients.  They're loaded with proteins that have strong anti-oxidant properties.   They're also loaded with vitamins A, C and manganese, among other things.    You can find out more about the health benefits of sweet potatoes here.   Sometimes sweet potatoes are called yams, although the two are not related at all.
This is another Ina Garten recipe.   Did I mention that I love everything she makes?  In Ina's recipe, she says that 2 potatoes serve 4 people.    Not in this house!   I used 4 sweet potatoes tonight, and my husband and I polished off most of them!
Ok, so do you think the boys were willing to try these tonight?  Nope!   I'm still not sure how they can turn down a delicious sweet vegetable that has brown sugar on it.   Hopefully they'll learn one day.
Baked Sweet Potato "Fries"
From Back to Basics by Ina Garten
2 medium sweet potatoes, peeled
2 tablespoons good olive oil
1 tablespoon light brown sugar
1/2 teaspoon kosher salt, plus extra for sprinkling
1/2 teaspoon freshly ground black pepper
Preheat oven to 450 degrees F.
Halve the sweet potatoes lengthwise and cut each half into 3 long spears.   Place them on a sheet pan and toss with the olive oil.  Spread the potatoes in one layer.   Combine the brown sugar, salt and pepper and sprinkle on the potatoes.  Bake for 15 minutes and then turn with a spatula.   Bake for another 10 minutes or so, until lightly browned.   Sprinkle lightly with salt and serve hot.
Serves 2 – 3.

Print This Recipe