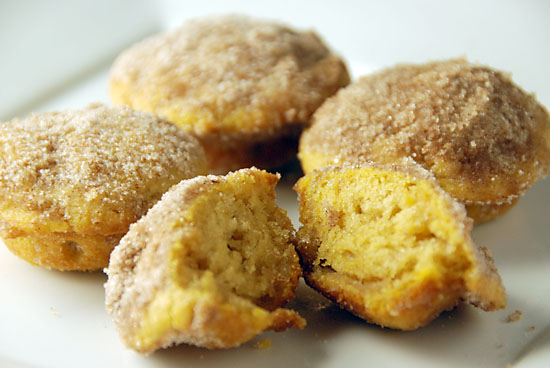 Next Sunday Balducci's, one of my favorite local gourmet food shops, is closing.   It's quite sad actually.   Although a bit pricey, they had every last minute thing I ever needed for a dinner party, a great cheese selection, and delicious prepared foods for those nights when I didn't have time to prepare anything and we didn't have left-overs.   Alas, we're on to a new era.   One of our doormen thinks it will be replaced by another gourmet food market.   I hope so!   Anyway, I tell you this because I walked into Balducci's yesterday (after a tip from my friend Mark) to find that all grocery items (think olive oils, flavored vinegars, granola, baking items, tea, coffee, cheese, etc.) were at least 45% off.    I came home with several bags full of great bargains.   As I was perusing the baking section, I saw cans of organic pumpkin puree, which I use in these delicious pumpkin muffins. I also saw a couple of cans of sweet potato puree.   I picked one up figuring I'd find something good to do with it.   These muffins are the result.
These muffins remind me of apple cider donuts, the kind you get in the fall at farm stands.   They're incredibly moist and they're coated in cinnamon and sugar.  What can be better?   I found the recipe on a fun blog called Noble Pig.
I made mini-muffins, which are the right size for our boys.  You should definitely try these, they're delicious.  My friend Christine (who hates things with too much butter), even liked them!
Sparky Marie's Sweet Potato Muffins with Cinnamon Sugar Coating
adapted from Cuisine at Home

For the muffins:

2-1/2 cups all-purpose flour
1-1/2 teaspoons baking powder
1/2 teaspoon table salt
1/4 teaspoon baking soda
1/4 teaspoon ground nutmeg
1/3 cup buttermilk
1/3 cup whole milk
1/2 cup sweet potato puree (from 1 baked potato)
1 teaspoon vanilla extract
1 stick unsalted butter, room temperature
3/4 cup brown sugar
2 eggs

For the topping:
1/2 cup sugar
2 teaspoons ground cinnamon
1/4 teaspoon ground nutmeg
3/4 stick unsalted butter, melted

In a medium bowl, combine all purpose flour, baking powder, salt, baking soda and ground nutmeg.  Set aside.

In a large pouring vessel combine whole milk, buttermilk, sweet potato puree and vanilla extract.  Set aside.

In a large bowl, cream unsalted butter and brown sugar with an electric mixer, until fluffy.  Add eggs, one at a time, beating well after each addition.  Alternately mix in dry and wet ingredients into the butter, starting and ending with the dry; mix only until each addition is incorporated, DO NOT OVERMIX.

Coat a muffin pan with nonstick spray and fill muffin cups 1/2 full.  Bake in a 350 degree oven for 20-25 minutes, or until a toothpick inserted into the center of the muffin comes out clean.

While muffins are baking, in a shallow bowl, combine granulated sugar, ground cinnamon and ground nutmeg.  In a separate bowl, melt 3/4 stick of unsalted butter.

When the muffins are cool enough to handle, yet still warm, remove muffins from the pan, brush them completely with the melted butter, and roll in the sugar mixture to coat.

Yield:  12 standard muffins or ~24 mini-muffins

Print This Recipe