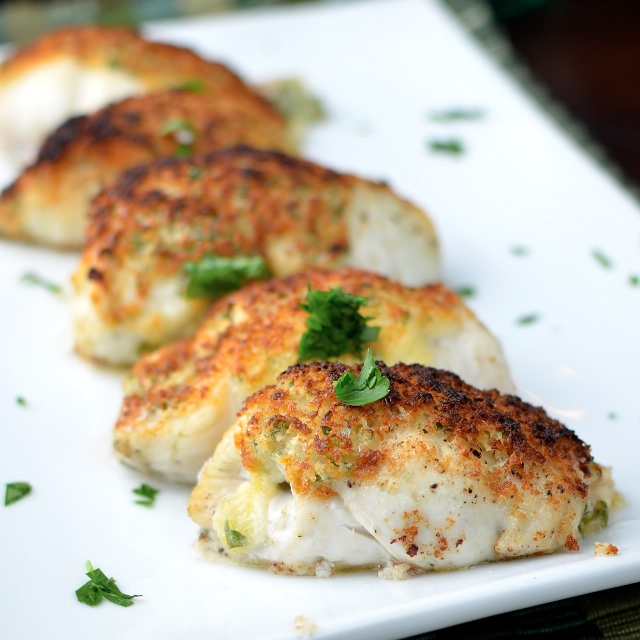 Looking for a new way to cook fish that won't make your home smell too much like fish? I love fish, especially pan-fried fish, but I hate the smell that lingers afterwards. This might not be an issue if you live in a house, but I live in an apartment, and if I pan fry fish, the smell can last for DAYS. When I made this, I didn't notice a lingering fish smell at all, which was great.
I really liked the Caesar dressing on the flounder, especially when it became crusty under the broiler. It was full of flavor. This is a quick, easy meal that's easy enough for a weeknight dinner, yet elegant enough for company. You can have this on the table in no more than 20 minutes. That's my kind of recipe.
I recently read that if you have lingering food smells in your house, you can get rid of them by boiling white vinegar on the stove. I've tried it a couple of times and it works like a charm. The only problem is that for a little while there's a terrible, pungent vinegar smell that permeates everything, but that doesn't last too long, and when it goes all of the food smells go with it.
Broiled Flounder with Parmesan "Caesar" Glaze
Recipe from Fine Cooking

8 skinless flounder fillets, 4 to 5 oz. each
Kosher salt and freshly ground black pepper
1/3 cup good-quality mayonnaise
1-1/2 oz. (1/2 cup) freshly grated Parmigiano Reggiano, grated on the small holes of a box grater
1-1/2 Tablespoons loosely packed finely grated lemon zest (from 1 large lemon)
1 Tablespoon fresh lemon juice
1/2 teaspoon Worcestershire sauce
1 small clove garlic, minced
2 Tablespoons coarsely chopped fresh flat-leaf parsley

Position a rack 4 inches from the heat element and heat the broiler on high. Lightly season both sides of the fillets with salt and pepper. Set a fillet before you, skinned side up, and starting at the narrow end, roll up the fillet. Repeat with the remaining fillets.

Spray a broiler pan with nonstick cooking spray. Arrange the flounder rolls, seam side down, in the pan. Broil until the tops are lightly browned, 7 to 8 min. Meanwhile, whisk the mayonnaise, Parmesan, lemon zest and juice, Worcestershire, and garlic in a small bowl. Season with pepper to taste.

When the tops of the fillets are lightly browned, remove the fish from the broiler. Spread equal amounts of the mayonnaise mixture over the top of each fillet. Return to the broiler until the topping is golden brown and bubbling, 1-1/2 to 2 min. Transfer the fillets to four dinner plates and sprinkle with the parsley. Serve immediately.


Yield: 4 – 6 servings

One year ago: Chocolate Sugar Cookies
Two years ago: Asian Quinoa Salad
Three years ago: Malted Chocolate Madeleines
Four years ago: Ground Turkey Shepherd's Pie
Five years ago: Shortbread Candy Bars
Six years ago: Joanna Pruess's Molasses Spice Cookies
Seven years ago: Cheddar Apple Frittata

Print This Recipe