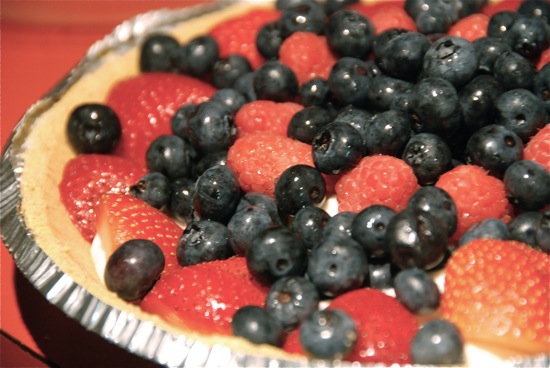 Carole is my mother and she has been making these summer pies for as long as I can remember.   This is one of my favorite summer desserts.  When we were growing up, sometimes we'd get to eat the left-overs for breakfast the next morning.   I used to look forward to that.
These pies (I always make two) are great for the summer because they're loaded with fresh fruit, and there's no baking involved.   They come together in no time – especially if you use a premade graham cracker crust.   If you're making this, the trick is to make the whipped cream part early in the day because it needs to chill for a couple of hours before serving.
There's a farm on the north fork of Long Island called Briermere Farm, and they make the best peach whipped cream pies.   Their regular pies are good too.   The whipped cream pies are $28 each.   This pie definitely rivals Briermere's and at a fraction of the cost!   Without the almond extract that this pie has, it would be identical to Briermere's.
I typically make these using fresh berries because berries keep well and don't turn brown when exposed to the air like some other fruit will.   This is a real summer treat, and a long-standing summer tradition for my family.
Carole's Whipped Cream Pie

1 (3 oz.) package of cream cheese, softened
1/2 cup confectioners sugar
1/2 teaspoon vanilla extract
1/2 teaspoon almond extract
1/2 pint heavy cream
1 graham cracker crust or a baked pie shell, cooled
Fresh fruit

Cream together the softened cream cheese, confectioners sugar, vanilla and almond extracts. In a separate bowl, whip the heavy cream until it hold soft peaks. Fold the whipped cream into the cream cheese mixture. Spoon the mixture into the pie crust.    Refrigerate for at least an hour, and ideally several hours.

Starting at the outer edge of the pie, arrange fresh fruit to completely cover the pie. For the fourth of July, I typically start at the outside of the pie with strawberries, then put a pile of blueberries in the center. It's quite pretty.

Yield: 8 slices

Print This Recipe