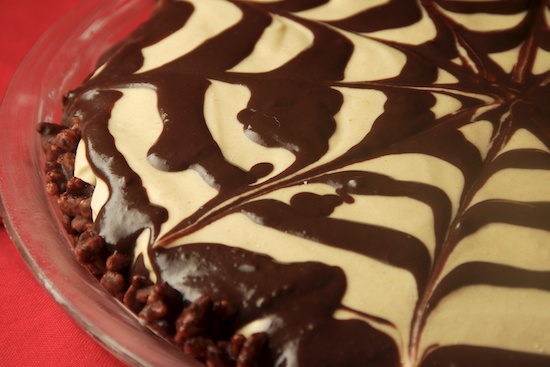 I was in Costco with the boys the other day and David's Cookies was there selling pies. We tried many of them, and the boys really loved the peanut butter pie. I thought it was just ok, so we didn't buy one, but when I tried it I was reminded of this peanut butter cream pie that I frequently made years ago. The recipe is from a book called Mrs. Field's Best Ever Cookie Book.    I knew that my pie would beat the David's pie hands-down, and in my opinion it did.   Granted the two pies were different.  Theirs was more like a cookie pie and this is a cream pie that is best served directly from the freezer, but I still much prefer this pie.
The boys love it (no surprise) – even my son that claims he doesn't like peanut butter!   The boys definitely have my sweet tooth.
My pie ended up looking like a big spider web.  It would be a great dessert for Halloween.  I did this by making concentric circles of melted chocolate, then running a knife through the circles starting at the center of the pie.
This is a great pie to make in the summer because there is no cooking involved, and I recommend keeping it in the freezer.   It's great served frozen.   I hope you enjoy this as much as I do.
Peanut Butter Cream Pie
Adapted from Mrs. Fields Best Ever Cookie Book
Chocolate Crust
1 cup semisweet chocolate chips
5 Tbsp unsalted butter
2 1/2 cups crispy rice cereal
1/4 cup mini semisweet chocolate chips

Filling
8 oz cream cheese, softened
One 14 oz can sweetened condensed milk
3/4 cup creamy peanut butter
2 tsp vanilla
1 cup heavy dream

Topping
1/2 cup chocolate chips
2 Tbsp heavy cream or half & half

Make the Crust: In a double boiler, melt 1 cup chocolate chips and butter over low heat. Remove from heat and stir until smooth. Gently stir in the rice cereal until completely coated. Set aside to cool to lukewarm, then stir in the mini chips. Press into the bottom and up the sides of a buttered 9-inch pie plate. Chill for 30 Minutes to set the chocolate.

Prepare the filling: In a large bowl with an electric mixer, beat the cream cheese until fluffy. Beat in the condensed milk, peanut butter and vanilla.  In a medium bowl, beat the heavy cream until soft peaks form. Fold the whipped cream into the peanut butter mixture. Pour the filling into the crust.

Make the topping: In a double boiler melt the chocolate chips over hot water. Add the cream and stir until blended. Set aside to cool slightly, then drizzle over the top of the pie.   Put the pie in the freezer until ready to serve.   It's best served frozen.

Yield:  8 servings

Print This Recipe