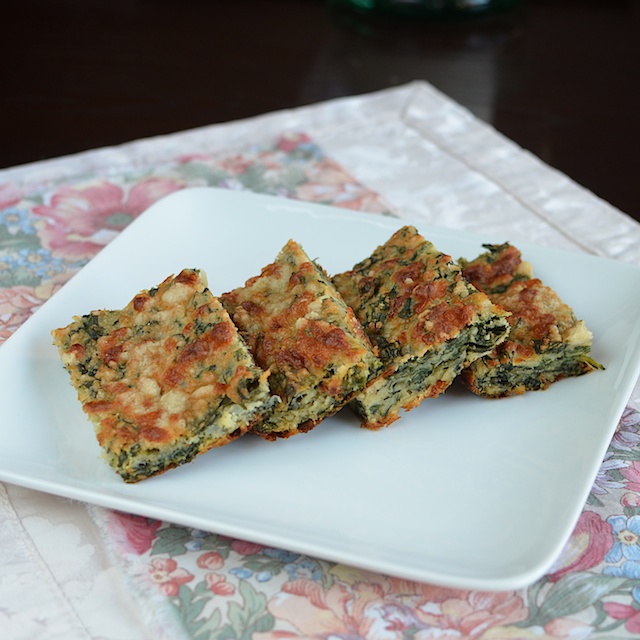 My cousin Erica posted a picture of these spinach brownies on Facebook last week and I thought they looked delicious. I love having something in the refrigerator that's quick and healthy for lunch and these are just the ticket. They're good both warm or cold, straight from the fridge.   The boys wouldn't go near these with a ten-foot pole, so my husband and I ate them as a side dish the first night I made them, I actually ate them for breakfast the next morning, and I ate them again for lunch the following day.
Don't be fooled by the word brownies in the title of this recipe. The only thing these have in common with traditional brownies is their shape. They are not sweet at all.
When you are making these, you can use 10 oz. of frozen spinach if you don't have fresh. Be sure you really squeeze all of the water out of the spinach before you mix it into the flour and egg mixture. You don't want to end up with runny brownies.
My brownies had a nice brown crust on them because I decided to sprinkle a couple of tablespoons of Parmigiana cheese on top of the batter before I baked them. The original recipe didn't call for this, but I do love my cheese.
Spinach Brownies
Recipe adapted from AllRecipes.com

1 (10 ounce) package baby spinach, rinsed and chopped
1 cup all-purpose flour
1 teaspoon salt
1 teaspoon baking powder
2 eggs
1 cup milk
3 Tablespoons butter, melted
1 onion, chopped
1 clove garlic, minced
1 (8 ounce) package shredded mozzarella cheese
A couple of Tablespoons of Parmigiana cheese (optional)

Preheat oven to 375 degrees F (190 degrees C). Lightly grease a 9×13 inch baking dish.

Place spinach in a medium saucepan with enough water to cover. Bring to a boil. Lower heat to simmer and cook until spinach is limp, about 3 minutes. Remove from heat and set aside in a strainer to drain.

In a frying pan, melt the butter. Cook the onion over low/medium heat until translucent, about 5 – 8 minutes. When the onions are translucent, add the garlic and cook for 1 minute more. When the garlic is cooked, turn off the heat and set the pan aside.

Squeeze as much liquid as you can out of the spinach.

In a large bowl, mix flour, salt and baking powder. Stir in eggs and milk. Mix in spinach, onion/garlic and mozzarella cheese.

Transfer the mixture to the prepared baking dish. Bake in the preheated oven 30 to 35 minutes, or until a toothpick inserted in the center comes out clean. Cool before serving.

Yield: 24 "brownies"

One year ago: Creamy Spinach Enchiladas with Red Cabbage Slaw
Two years ago: Banana Chocolate Chip Muffins
Three years ago: Roasted Vegetable Frittata
Four years ago: Moroccan Spiced Chickpea Soup
Five years ago: Lima Bean Soup with Parmesan Bacon Crisp

Print This Recipe