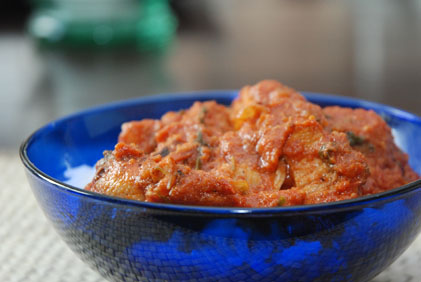 I love Indian food, but I don't make it much because I find it intimidating.   I was recently hosting a birthday dinner for a good friend of mine and he asked for Chicken Tikka Masala.  I would have typically said no because most recipes that I found looked like they took forever to make, but since it was his birthday I decided to give it a go.   I decided to try the recipe that I found in Fine Cooking magazine.    It took quite a while to make and while I typically don't post complex or time-consuming recipes on this site, this one is so delicious that I had to post it.
Although quite time-consuming, this recipe can be made in advance and reheated, which in my book makes it perfect for a dinner party!    It doesn't look like more than a bowl of mush in the photo, but underneath that incredible sauce are big chunks of moist chicken.    Make this one day when you have some time on your hands, and freeze it in small batches for the nights when you want to defrost and microwave something delicious for dinner.   I served this over white rice.
This recipe starts with roasted tandoori chicken.  Once the chicken is cooked, you make the Masala sauce and put the two together for an incredible meal.   The original recipe called for bone-in chicken thighs, but all I had on hand were boneless chicken breasts, so I used them instead and the recipe was great.
Chicken Tikka Masala
Adapted From Fine Cooking 81, pp. 68-71, October 1, 2006

Roasted Tandoori Chicken

4 lbs. boneless chicken breasts
1 cup plain nonfat yogurt
1/3 cup fresh lemon juice (from about 2 medium lemons)
1 tablespoon peeled and finely chopped fresh ginger
1 tablespoon finely chopped garlic
2 teaspoons ground coriander
2 teaspoons ground cumin
2 teaspoons garam masala
1 1/2 teaspoons kosher salt
1/2 teaspoon cayenne
1 lemon, cut in half

In a large, shallow bowl, mis together the yogurt, lemon juice, ginger, garlic, coriander, cumin, garam masala, kosher salt and cayenne.   Cut three or four diagonal slits in each chicken breast and put the chicken in the marinade.   Cover and marinate in the refrigerator at least 2 hours and up to 12 hours.

Position a rack in the center of the oven and heat it to 350 degrees F.  Line a large rimmed baking sheet with foil.  Transfer the chicken from the marinade to the baking sheet, spacing the breasts evenly.  Discard any remaining marinade.   Roast until the juices run clear when the chicken is pierced and an instant-read thermometer registers 170 degrees F, about 30 minutes.

Squeeze the lemon halves over the chicken.  Let it cool before using in the next part of the recipe.

Chicken Tikka Masala

1 2-inch-long hot green chile (preferably serrano), stemmed but not seeded, chopped
1 1-inch piece fresh ginger, peeled and chopped
1 28-ounce can whole tomatoes
8 tablespoons unsalted butter
Tandoori chicken (made from recipe above), cubed to your liking (I made ~1 inch chunks)
2 teaspoons sweet paprika
1 teaspoon ground cumin
1 cup heavy cream
kosher salt
2 teaspoons garam masala
3/4 cup coarsely chopped fresh cilantro

In a food processor, pulse the chile and ginger until very finely chopped.  Add the canned tomatoes with their juice and process until the mixture is pureed.  Set aside.

Melt 6 tablespoons of the butter in a 6- to 8-quart Dutch oven over medium heat.  When the foam subsides, dd about a third of the chicken pieces and cook, stirring frequently, until the chicken absorbs some of the butter and begins to brown, 3 to 4 minutes.  With a slotted spoon, transfer the chicken to a plate.  Repeat with the remaining two batches of chicken.

Add the remaining 2 tablespoons butter to the pan.  When it's melted, add the paprika and the cumin and stir until the spices just begin to darken, 10 to 15 seconds.

Immediately add the tomato mixture.  Simmer vigorously, uncovered, stirring frequently, until the sauce has thickened slightly, 6 to 8 minutes.  Add the cream and 1 teaspoon kosher salt and stir well.

Add the chicken and stir gently to mix.  Reduce the heat to medium low and simmer, uncovered, stirring occasionally, for 10 minutes.  Stir in the garam masala.  Remove from the heat, cover, and allow to rest for 15 minutes.  Taste and add more salt if necessary.

Transfer to a serving bowl, garnish with cilantro and serve.

Serves 6 to 8.

Print This Recipe