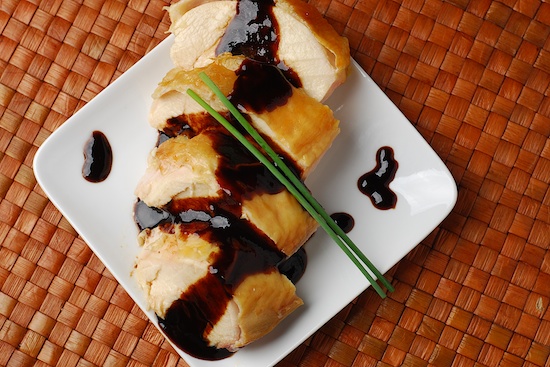 This is yet another recipe from that Giada cookbook I borrowed from the library.   There are a couple more recipes I'd like to try, but it's due pretty soon so I don't know that I'll get to them.    This barbecue sauce is delicious.   It reminds me quite a bit of my mom's spare rib sauce recipe, which is equally delicious.  This dish was a cinch to throw together because I had all of the barbecue sauce ingredients in the house.   I thought the house smelled great as the sauce was reducing.
This chicken is ideally supposed to be cooked on a grill, but I chose to bake it in the oven.    I don't like to use my grill pan because the vent above my stove does not vent to the outside of my apartment and I hate when I cook and end up in a room full of smoke.  I imagine that this would have been great cooked on a grill, but I have to say that it was quite delicious cooked in the oven.   I can't wait to make this recipe on the barbecue this summer.
The picture below is what the chicken looks like when it comes out of the oven.     The picture above is a sliced chicken breast with the barbecue sauce poured over it.   I made one chicken breast without sauce because my boys like things plain – not that any of them would eat even a plain, bone-in chicken breast, but I had to make one because I knew that there was NO chance they'd eat one with the sauce on it.
I'd put this sauce on beef, pork or chicken.  I think it's that versatile and that good.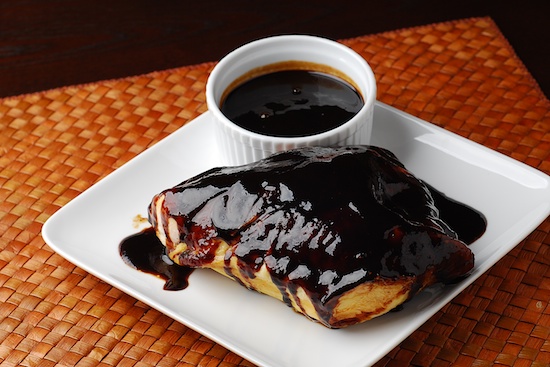 Chicken with Balsamic Barbecue Sauce
Recipe by Giada DeLaurentiis from Giada's Kitchen, New Italian Favorites
Barbecue Sauce:
1 cup balsamic vinegar
3/4 cup ketchup
1/3 cup brown sugar
1 garlic clove, minced
1 tablespoon Worcestershire sauce
1 tablespoon Dijon mustard
1/2 teaspoon salt
1/2 teaspoon freshly ground black pepper
4 pieces chicken (any combination of breast or leg-and-thigh pieces)
Salt and freshly ground pepper
Combine all the ingredients in a small saucepan and stir until all the ingredients are incorporated and the mixture is smooth. Simmer over medium heat until reduced by 1/3, about 15 to 20 minutes.
Place a grill pan over medium heat or preheat a gas or charcoal grill. Season the chicken pieces with salt and pepper.
Transfer 1/2 cup of the sauce to a small bowl.  Grill the chicken for about 10 minutes per side, brushing the chicken with the 1/2 cup barbecue sauce for the last 2 or 3 minutes.  Transfer the chicken to a serving platter and let it rest for at least 5 minutes.  Serve with the remaining barbecue sauce alongside.
Note:  If you prefer not to grill, the chicken can also be baked.  Place the chicken skin side up in a baking dish and bake for 25 minutes in a 375 degree oven.  Remove the baking dish from the oven and spoon the barbecue sauce all over the top of the chicken.  Return the baking dish to the oven and bake for another 15 minutes.
Yield:  4 servings

Print This Recipe