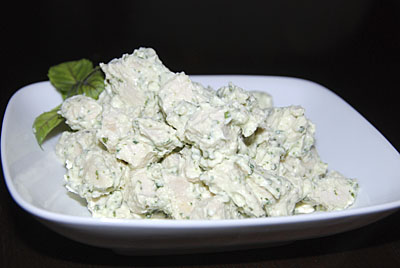 There's a restaurant/sandwich shop in NYC called Mangia that I used to frequent when I worked in midtown. It was a bit on the pricey side, but I loved the food. The sandwiches were not traditional, and the whole atmosphere was very European, from the food to the desserts to the staff. I used to go to Mangia once every three or four weeks for years and I always ordered the same thing – the Basil Parmesan Chicken Salad sandwich. It was served on a baguette topped with arugula and sun-dried tomatoes and I never got sick of it.
I recently had a bunch of chicken breasts and lots of fresh basil (from my Aerogarden) so I decided to recreate the Mangia sandwich that I used to love. I found this recipe and I have made it several times. It's incredible – just like the Mangia sandwich.
This is a great recipe for left over cooked chicken.
Basil Parmesan Chicken Salad
Adapted from Allrecipes.com

2 whole skinless, boneless chicken breasts (if you buy them frozen, this typically means 4 pieces)
salt and pepper to taste
1/2 cup mayonnaise
1/2 cup chopped fresh basil
1 clove crushed garlic
3 stalks celery, chopped (optional)
1/3 cup grated Parmesan cheese

If the chicken is raw, season it with salt and pepper. Roast at 375 degrees for 35 minutes, or until juices run clear. Let cool, and chop into chunks.
In a food processor, puree the mayonnaise, basil, garlic, and celery (if using). Combine the chunked chicken, pureed mixture, and Parmesan cheese. Refrigerate and serve.