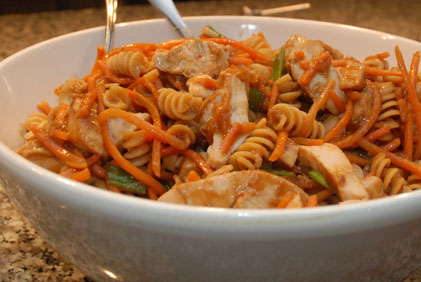 We have two of my husband's friends from college and their three boys visiting from Atlanta for a week. We're having a lot of fun. The other day we went downtown to the Statue of Liberty, then walked around Ellis Island and finally walked to the World Trade Center site. It was a great day, but it was a lot of walking for seven boys between the ages of 4 and 9. We had planned to take all of the boys to Jekyll and Hyde for dinner, but they were too exhausted by the time the day was over.
Since I hadn't planned to cook dinner and it was late when we got home, I needed a recipe that was quick and easy to cook. I flipped through some of my old recipes and found this one. It's so good I've made it dozens of times and I'm really glad I made it the other night. It was a big hit and everyone loved it.
This pasta dish has an Asian-flavored peanut sauce which is delicious, and if you grate ginger root (as opposed to using pre-chopped ginger in a jar), the sauce will have a nice bite to it. This is one of the most flavorful pasta dishes that I make.
If you're short of time like I was the other night, you can buy precooked chicken strips and throw them in instead of cooking chicken from scratch. You can also easily substitute pre-cooked shrimp. Buying shredded carrots is also a great time-saver.  One addition I sometimes make to the recipe is to add a thinly sliced red pepper to the pasta.   It adds some nice color and flavor.
When I make this recipe, I use whatever type of whole wheat pasta I have on hand. In the picture above, I used fusilli. I hope you're not put off by some of the ingredients in this recipe. They're probably not things that you just happen to have in your kitchen cupboard, but buying them is certainly a worthwhile investment as I'm pretty sure you'll make this recipe more than once.
Fusilli and Chicken with Finger-Licking Peanut Sauce
Adapted from Cooking Light Magazine

1/2 cup fat-free, less-sodium chicken broth
1/4 cup peanut butter
1/4 cup low-sodium soy sauce
3 tablespoons brown sugar
2 tablespoons rice vinegar
2 teaspoons grated peeled fresh ginger
2 teaspoons chile paste with garlic
4 garlic cloves, minced
8 ounces uncooked whole wheat fusilli (or your favorite pasta)
1 pound chicken, cooked and cubed
1 cup (2-inch) sliced green onions (scallions)
1 cup shredded carrots
1 red bell pepper sliced into very thin strips, which you then cut in half so they're shorter

Combine first 8 ingredients in a small saucepan. Cook over medium heat 5 minutes or until smooth, stirring frequently. Remove from heat.

Cook pasta in boiling water according to package directions. Add onions, red pepper and carrots; drain. Place pasta mixture in a large bowl and add chicken. Add peanut butter mixture; toss gently and serve.

Yield: 4 servings (2 cups per serving)