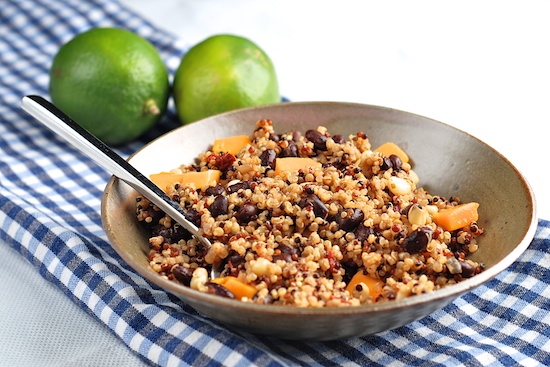 Ok, I think I've posted enough sweet recipes lately. Time for a change.
I'm on a quinoa kick these days.   I found that Trader Joe's sells a great bag of tri-color quinoa and I've found all kinds of things to do with it.  This recipe is my current favorite.   My husband likes it so much that he just asked me to make another batch.
Let me extol the virtues of quinoa for a moment.  It's a seed (I thought it was a grain) that has quite a bit of protein (18%) and fiber and a load of nutrients like amino acids, phosphorous, magnesium and iron.   It has a very mild taste on its own, but it's great at picking up the flavors of spices and seasonings that you add to it.  Quinoa is also gluten-free for those who cannot tolerate gluten.
The chipotle peppers give this recipe some nice heat.  If you want more heat, when you chop the peppers, don't discard the seeds.  They'll give the dish an extra kick.
I have made this recipe with red onions and also with plain yellow onions (when I ran out of red).  I have also made it with both fresh and dried oregano.   All variations were excellent.   When I make this, I buy chipotles in adobo sauce.   My local supermarket carries them and they're delicious.   I used some of the leftover chipotle peppers to make this recipe last night.
When you cook the quinoa (which is typically cooked just like you cook rice), you'll know it's done when you see the quinoa seeds "sprout". You'll notice the germ separating from the seeds. It reminds me of seeds sprouting.
This dish is excellent served warm, at room temperature or cold, right out of the refrigerator. It's also an excellent vegetarian main dish.
Chipotle Quinoa with Corn and Black Beans
Recipe from followinginmyshoes.com

1.5 tablespoons canola oil
1 red onion, chopped
2 cloves garlic, minced
2 or more canned chipotle peppers, minced with some of their sauce
1 tablespoon fresh, chopped oregano, or 1 teaspoon dried oregano
¾ cup dry quinoa
salt and pepper
15 oz can black beans, rinsed and drained or about 2 cups of prepared black beans
½ cup frozen corn
2 cups vegetable broth or chicken broth
mango- diced (optional)
cilantro, chopped (optional)
lime wedges, (optional)

Add canola oil to a skillet and place over medium heat. Add onion and garlic. Cook, stirring until the onion is soft, about 5 minutes. Add chipotles and oregano and continue stirring for another minute.

Turn up the heat to medium-high, add the quinoa, and sprinkle with salt and pepper. Continue to cook, stirring frequently for 3-5 minutes.

Add the black beans, corn, stock and bring to a boil. Stir, cover and reduce heat to low. Cook, undisturbed for approximately 15 minutes.

Uncover and test quinoa. If the kernels are still crunchy, add a little more liquid and cook for another 5 minutes or so. When the grain is fully cooked, it will look as though it has sprouted.

Serve warm or at room temperature. Top with mango, cilantro or lime, if desired.

Yield: Six side-dish servings

One year ago: Oatmeal, Cranberry and Chocolate Chunk Cookies
Two years ago: Crisp Roasted Potatoes
Three years ago: Herbed Basmati Rice
Four years ago: Grandma Sachs' Crumb Cake

Print This Recipe