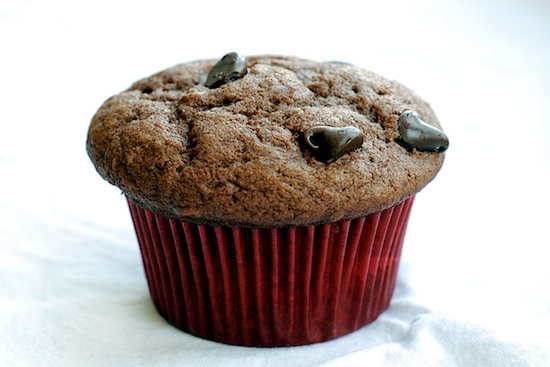 When I made these muffins, I followed the recipe below with two exceptions. First, I left the nuts out because the boys don't like nuts in things. I also doubled the vanilla extract because I didn't have any chocolate extract on hand and didn't feel like buying any. This is actually the first recipe I have ever seen that calls for chocolate extract.
The muffins were really tasty and my boys loved them – even my two banana-hating sons. They were not too sweet which was nice. I tossed a couple of chocolate chips on top of them to be decorative. It's amazing how appealing a couple of visible chocolate chips are for my boys.
Cocoa-Banana Muffins
Recipe from culinate.com
4 oz. (8 tablespoons; 1 stick) unsalted butter, softened
⅔ cup (4 ounces) firmly packed light-brown sugar
2 large eggs, at room temperature
¼ cup (¾ ounce) unsweetened Dutch-processed cocoa powder, sifted
3 Tbsp. boiling water
3 medium ripe bananas
¼ cup plain low-fat yogurt
½ tsp. pure vanilla extract
½ tsp. pure chocolate extract
2 cups (9 ounces) all-purpose flour
2 tsp. baking powder
½ tsp. baking soda
¼ tsp. kosher or fine-grained salt
¾ cup (3¾ ounces) coarsely chopped toasted, unsalted macadamia nuts (you can replace the macadamia nuts with walnuts, pecans, or toasted hazelnuts)
Center a rack in the oven and preheat the oven to 375 degrees. Line each cavity of the muffin pan with a cupcake liner.
Place the butter in the bowl of an electric stand mixer or a large mixing bowl. Use the flat beater attachment or a handheld mixer to beat the butter until light and fluffy, about 2 minutes. Add the brown sugar and cream the mixture well. One at a time, add the eggs, stopping to scrape down the sides and bottom of the bowl with a long-handled rubber spatula after each addition.
Place the cocoa powder in a small bowl and add the boiling water. Stir together with a heat-safe silicone spatula until it forms a smooth paste. Add this paste to the butter mixture and blend together well.
Use a fork to mash the bananas in a medium bowl. Add the yogurt and vanilla and chocolate extracts and blend together. In a large bowl, sift together the flour, baking powder, and baking soda. Add the salt and toss to blend. Add this mixture in 3 stages, stopping after each to scrape down the sides and bottom of the bowl to promote even blending. Add the nuts (if using) and stir to distribute evenly.
Use a 2-inch-diameter ice-cream scoop to divide the batter evenly among the cavities of the muffin pan. Bake the muffins for 25 minutes, until a cake tester or toothpick inserted comes out clean. Remove the muffin pan from the oven and transfer it to a rack to cool. Carefully lift the muffins from the pan and serve them warm or at room temperature.

Yield: 12 muffins
One year ago: Cauliflower and Caramelized Onion Tart
Two years ago: M&M's Cookies
Three years ago: Chickpea Salad with Lemon and Parmesan