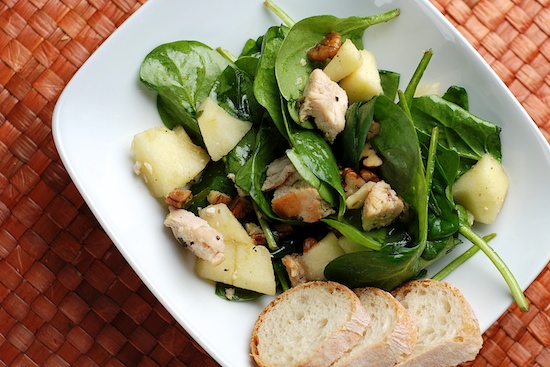 I have been making this spinach salad for years – longer than I've been married actually. I have no idea where I found the recipe. I'm so happy to finally be posting it. I made it last night as a light dinner and we gobbled it up. Not the boys, of course. That said, they did each try a part of the salad and none of them liked the taste of the dressing. I keep telling them that their palates have to be exposed to new tastes in order for them to start to like new things. Sometimes I feel like I'm talking to a brick wall.
I always seem to get motivated to try new things in January, so I'm trying a new strategy for feeding the boys. I'm going to put some healthy food on the table and I'm going to let them serve themselves and if they choose to eat, great. If they choose not to eat, no worries. I'm going to act like I just don't care. There won't be any snacks after dinner if they get hungry, so from what I've read, they'll learn to eat and to try new things. I'm skeptical, but nothing else seems to be working, so I figure it's worth a shot. I'll let you know how we do.
Back to the spinach salad. It's great for a light lunch or dinner and it comes together in no time. If you really want to cut down on the prep time, buy a rotisserie chicken. You can use any kind of apples that you like in the recipe. Last night I used Honey Crisp – my favorite apples. I would be happy eating this several times a week all year long.

Spinach Salad with Chicken and Apples

2 cups cooked chicken, diced
8 oz. baby spinach
2 apples, peeled, cored and diced
1/2 cup pecans, coarsely chopped

Dressing:
1/2 cup olive oil
1/4 cup red wine vinegar
2 Tablespoons minced chives
1 teaspoon sugar
1/2 teaspoon salt, or to taste
several grinds of black pepper

Place the spinach, chicken, apples and pecans in a large bowl. Put the dressing ingredients in a jar with a tight fitting lid and shake to combine. Pour half of the dressing on the salad. Toss. Add additional dressing if desired.

Yield: 2 servings as a main course for dinner

One year ago: Chicken Stew
Two years ago: Creamed Green Cabbage
Three years ago: Chicken Tikka Masala

Print This Recipe