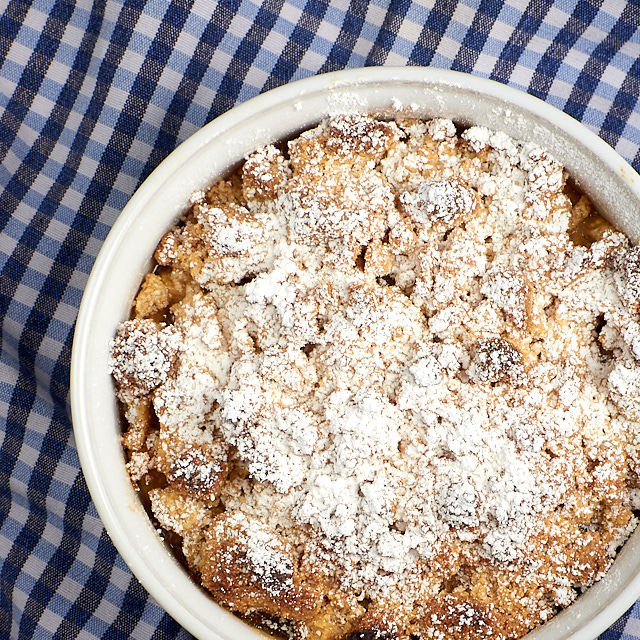 I love a good pear or apple crisp in the winter. Warm with a scoop of vanilla ice cream, it's fantastic. This crisp has a fantastic topping. My usual toppings have a base of flour, butter, sugar and sometimes oats. This streusel topping is loaded with ground almonds and it's so delicious! Because of the healthy almonds and pears, this dessert can double as a breakfast in our house. When I was growing up, if there was ever apple pie left over from dessert, my mother declared it a breakfast item, so that's where I get it.

The original recipe calls for six individual gratin dishes. I made my crisp in two larger ones. You can use either. The recipe also calls for pear brandy or eau-de-vie. Who has that lying around? I certainly don't. I used dark rum instead, but only used 3 teaspoons because I didn't want to overwhelm the pear flavor with too much rum. It worked perfectly.

My husband and I loved this recipe, as did one of my sons. The others had no interest in trying it. I think that's crazy.
Pear Crisp with Vanilla Brown Butter
Recipe from Smitten Kitchen, slightly adapted from Gourmet, Oct. 2007

For topping :
1 1/2 cups all-purpose flour
1 cup whole almonds with skin
1/4 cup packed light brown sugar
1/4 teaspoon salt
3/4 stick (or slightly more) unsalted butter, melted and cooled

For filling:
1 vanilla bean, split lengthwise
1/2 stick unsalted butter
1/4 cup packed light brown sugar
2 tablespoons granulated sugar
1 tablespoon all-purpose flour
3 lb firm-ripe Anjou or Bartlett pears (about 6), peeled and coarsely chopped
2 tablespoons pear brandy or eau-de-vie or in a pinch, dark rum

Make topping: Pulse together flour, almonds, brown sugar, and salt in a food processor until nuts are finely chopped. Add butter and pulse just until blended. If your crumbs look like sand, you will need more butter. Add one tablespoon of additional melted butter at a time, pulsing after each addition, until the crumbs look like big crumbles, not sand. When done, coarsely crumble in a shallow baking pan and chill at least 1 hour. 

Make filling and bake crisps: Preheat oven to 425°F with rack in middle.

Scrape seeds from vanilla bean into a small heavy saucepan, then add pod and butter and cook over medium-low heat, swirling pan occasionally, until butter is browned and fragrant, about 4 minutes. 

While butter browns, stir together sugars, flour, and a pinch of salt in a large bowl. Add pears and brandy and toss to combine.

Discard vanilla pod, then toss butter with pear mixture. Spoon filling into gratin dishes and sprinkle with topping, mounding it slightly in centers. Put in a shallow baking pan and bake 30 minutes, then rotate baking sheet and bake until topping is golden brown and filling is bubbling, 10 to 15 minutes more. Cool to warm or room temperature on a rack. 

Do ahead: The topping can made in advance, chilled and covered for up to two days. The crisps can be assembled (but not baked) 1 day ahead and chilled, covered. Bring them room temperature before baking. 

Yield: 6 servings


One year ago: Chocolate Olive Oil Cake
Two years ago: Cake Batter Truffles
Three years ago: Pasta e Ceci (Pasta with Chickpeas)
Four years ago: Shrimp with White Beans, Spinach and Tomatoes
Five years ago: Sugared Pretzel Cookies
Six years ago: Mini Hot Cocoa Cookies
Seven years ago: Zvi's Cinnamon Swirl Bread
Eight years ago: Quick Chickpea Curry
Nine years ago: Asian Pork Tenderloin
Ten years ago: Black Bean Brownies
Eleven years ago: Chicken Stew with Biscuits


Print This Recipe