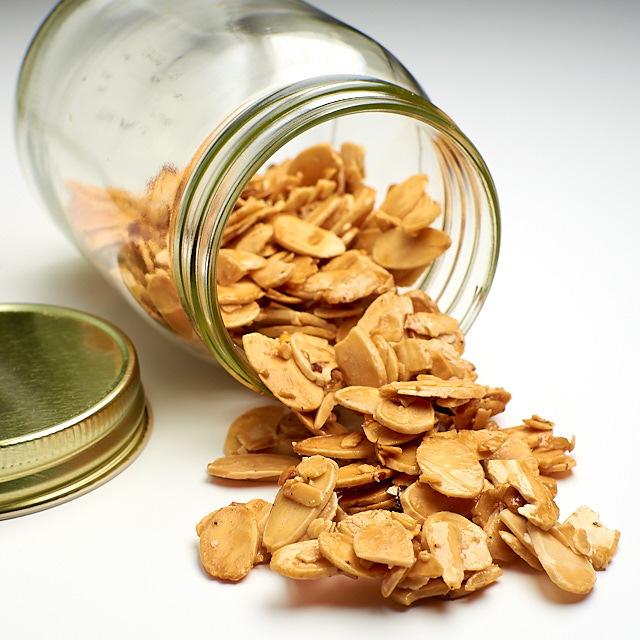 I love spiced nuts and I find these addictive. They're great on their own but can also be added to a nice green salad for a sweet and spicy crunch. They also make a great hostess gift.

A word of warning, once you start eating these, it's difficult to stop. I can easily eat a whole jar in a sitting.

For this recipe, you want to make sure you have some type of flaky sea salt, like Maldon. I don't recommend using table or Kosher salt in this recipe. You also want to make sure that you're going to be near your oven for the short time that these nuts need to bake because they need to be stirred every five minutes or so to make sure that they brown evenly.

I have made these several times in the last two weeks and I plan to make another batch today. They're that good.    

Spiced Candied Almonds
Recipe via David Liebovitz, adapted from Almonds, Anchovies and Pancetta: A Vegetarian Cookbook, Kind Of by Cal Peternell

2 cups sliced almonds, natural or blanched
1/4 teaspoon curshed red pepper flakes
1/2 teaspoon flaky sea salt (I use Maldon)
freshly ground pepper
1/4 cup water
1/4 cup sugar

Preheat the oven to 325ºF.

Put the almonds in a medium-sized bowl along with the red pepper flakes, sea salt, and several generous turns of freshly ground black pepper.

In a small saucepan, heat the water and sugar, stirring, until the sugar is dissolved. Remove from heat and stir the syrup into the almonds so they're completely coated.

Scrape the almonds into a mesh strainer set over a bowl or pan, and let drain 5 minutes.

Spread the almonds on a baking sheet in a single layer.

Bake the almonds in the oven until the almonds are golden brown, removing them from the oven to stir them twice during baking, so they brown evenly. They'll take about 15 to 20 minutes to bake. Remove the almonds from the oven and let cool before removing them from the baking sheet.

Storage: Store the almonds in an airtight container. They can be left at room temperature up to two weeks.

Yield: 2 cups of nuts

One year ago: Gingerbread Biscotti
Two years ago: Cake Batter Truffles
Three years ago: Stuffed Cookie Dough Bites
Four years ago: Graham Cracker Bites
Five years ago: Sugared Pretzel Cookies
Six years ago: Homemade Wheat Thins
Seven years ago: Orange-Scented Almond and Olive Oil Muffins
Eight years ago: Alsatian Pizza
Nine years ago: Honey Wheat Cookies
Ten years ago: Sugar Cookies with Royal Icing
Eleven years ago: Chewy Sugar Cookies


Print This Recipe