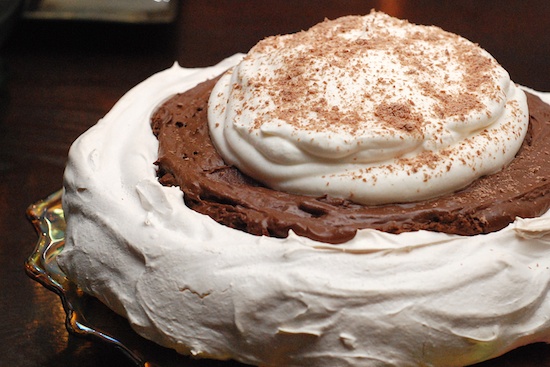 This is a really fun and different dessert, and it's perfect for impressing guests. I love meringue cookies, and this pie sits in a giant meringue shell. The shell is sweet, crunchy and tastes like marshmallows.  The chocolate filling is like a thick custard and not terribly sweet, which was a nice complement to the sweet meringue shell. The fresh whipped cream on the top is a nice finishing touch.
I found the recipe in the Wall Street Journal. It was written by a chef/cookbook author named Gail Monaghan. Gail lives in Manhattan and I met her at one of the cooking classes that she runs in her home. She's an amazing cook. Check out the schedule of classes on her website.
The meringue shell is easy to make, but it takes a good chunk of a day, so be prepared to make it the day before you need it. It cooks for 5 hours at a low temperature, then it sits in the oven all night. It's really beautiful when it comes out of the oven – it looks like a fluffy cloud.
The shell can be filled with lots of different fillings.   Check out the Wall Street Journal article to see a number of them.    We were deciding between this chocolate filling and a lemon curd.   We took a family vote and chocolate won hands-down.     The next time I make this I'll try the lemon filling.
I made a few changes to the recipe for the chocolate filling. The original recipe called for Kahlua and espresso powder which I didn't have in the house. I substituted 1 generous teaspoon of decaffeinated instant coffee for the espresso powder and I left the Kahlua out all together. These two things would have given the custard more of a mocha flavor. I actually prefer chocolate to mocha so it worked out.
I'll definitely make this again, but I'll wait for a dinner party. I felt the dessert was a little fancy to feed to the boys after a regular weeknight meal. They didn't complain though.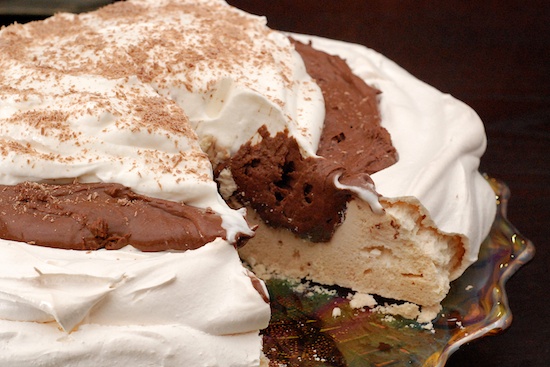 Classic Meringue Shell
Recipe from Gail Monaghan as seen in The Wall Street Journal


4 room-temperature egg whites
Pinch of salt
½ teaspoon cream of tartar
1 cup plus 2 tablespoons superfine sugar
¾ teaspoon vanilla extract

Preheat the oven to 375 degrees. Line a baking sheet with parchment and draw a 10-inch circle on it. Turn paper over. I used scotch tape to tape my parchment paper to the baking sheet. This made it easier to shape the meringue shell. If you do this, don't forget to remove the scotch tape before baking!

With the whisk attachment in place, beat egg whites, salt and cream of tartar in the bowl of an electric mixer set on medium-low speed. When frothy, increase the speed to medium-high and beat until the whites form soft peaks.

About 2 teaspoons at a time, add sugar while continuing to beat. Increase the speed to high and beat until stiff and glossy. Beat in vanilla.

Spoon meringue into the traced circle, smooth with a spatula and shape like a shallow bowl. If you used scotch tape to hold your parchment paper in place, remove the tape now.

Place in the lower third of the oven, reduce heat to 200 degrees, and bake for at least 5 hours (the longer it stays in, the surer you can be that the shell will arrive at crisp perfection). Then turn off the oven and leave the meringue in the turned-off oven to cool, preferably overnight.

Chocolate Filling
12 ounces semisweet chocolate, chopped
¾ cup water
1 teaspoon decaffeinated instant coffee grounds
Pinch of salt
4 eggs yolks
2 tablespoons Kahlua (optional)
1 cup very cold heavy cream

Whipped Cream Topping
1 cup very cold heavy cream
4 tablespoons sugar
½ teaspoon vanilla extract

To make the chocolate filling:
Place chocolate, water, coffee powder and salt in the top of a double boiler or metal bowl set over simmering water. Heat until the chocolate has just melted, stirring frequently. Remove from heat and beat in yolks, one at a time. Stir in Kahlua (if using). Allow to cool. When mixture is completely cool, whip heavy cream until soft peaks form (don't overmix or it will turn to butter), and fold it into the cooled chocolate. Refrigerate until ready to use.

Make the whipped cream topping:
Whisk the cream with the sugar and vanilla until soft peaks form. Watch the cream very carefully. You don't want to overmix it or your cream will turn to butter!

To serve, spread chocolate filling followed by the whipped cream over meringue. Sprinkle with shaved chocolate and fruit, if desired. Cut into wedges.

Yield: 8 – 10 servings

One year ago: Pad Thai with Chicken and Shrimp
Two years ago: Sweet Potato Muffins
Three years ago: Quick Vanilla Buttercream Frosting

Print This Recipe