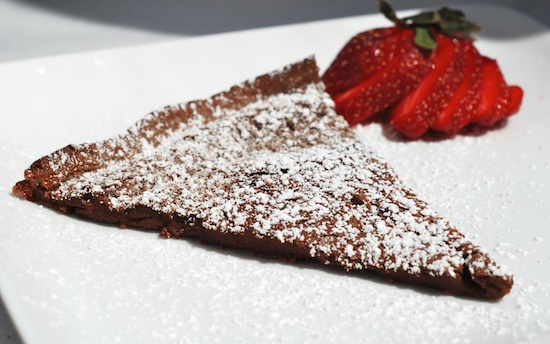 My boys love when I make them a Big Dutch Baby for breakfast (well at least three out of four do, but in my book three out of four isn't bad. I'm used to not cooking many things that all four like).  To change it up a bit, I decided to try to make a chocolate one.  I used my regular recipe and replaced 1/4 cup of flour with 1/4 cup of unsweetened cocoa powder.   They devoured it. All four of them.
A Dutch Baby will puff up when you're cooking it. It will look like a mountain range when it comes out of the oven, but it quickly deflates. This is normal. If you're making it for guests, make sure they see it before it deflates. It's impressive to see.
Sometimes a Big Dutch Baby is referred to as a German Pancake. Enjoy!
Chocolate Dutch Baby

2 tablespoons butter
3 eggs
1/2 cup flour
1/4 cup unsweetened cocoa powder
3/4 cup milk
1/2 tsp salt
1 Tbsp. sugar
1/4 tsp vanilla
Cinnamon to taste (I used a scant 1/4 tsp.)

Heat a 10″ oven-proof dish or skillet in the oven at 425 degrees F. When hot, put butter in the pan/dish and put it back in the oven.  Heat for a minute or two until the butter is melted – watch the pan to make sure the butter doesn't burn. It will burn pretty quickly. If it burns, dump it and start again.

Meanwhile, whisk eggs until foamy. Add milk, flour, cocoa powder, salt, vanilla and cinnamon to the eggs. Blend just to combine.
Remove the dish with the melted butter from the oven. Roll the dish around to spread the butter evenly.  Make sure the sides get some butter.
Pour the batter in immediately and put it back in the oven. Bake for 20-25 minutes or until the pancake is lightly browned.  It will puff up when in the oven and will deflate when removed.

Serve in wedges with powdered sugar.   As an alternative, serve with fresh berries.

Yield: 4 servings

One year ago: Meyer Lemon Sorbet
Two years ago: Sweet-n-Sour Pork Chops
Three years ago: Candied Carrots

Print This Recipe