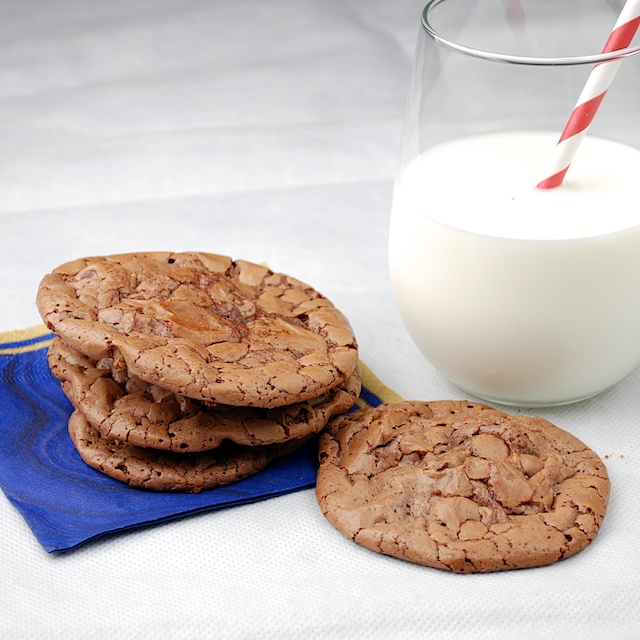 These cookies pack a chocolaty punch!   They're like brownies in cookie form – soft, chewy and chocolaty.   I made them recently for my girlfriend's birthday and she and her family gave them rave reviews, especially her son Jack!
They are quite soft when cooked, so next time I might make them a tiny bit smaller, which should make them easier to handle.  I found that these lacked some structural integrity and would bend when you picked them up.   Not a terrible thing – I just think smaller cookies would be better.
I didn't have enough semi-sweeet chocolate on hand when I made these, so I substituted a little milk chocolate for the semi-sweet. The cookies were still delicious. The recipe said to melt the chocolate over a saucepan of simmering water. I just melted mine in the microwave and it was fine. Don't skip the chilling step in this recipe. Definitely let the dough get firm in the freezer before you try to bake it.
Chocolate Brownie Cookies
Recipe from Food & Wine

1 pound semisweet chocolate, chopped
4 tablespoons unsalted butter
4 large eggs, at room temperature
1 1/2 cups sugar
1 teaspoon pure vanilla extract
1/4 teaspoon salt
1/2 cup all-purpose flour, sifted
1/2 teaspoon baking powder
One 12-ounce bag semisweet chocolate chips

In a large bowl set over a saucepan of simmering water, melt the chopped chocolate with the butter, stirring a few times, until smooth, about 7 minutes.

In another large bowl, using a handheld electric mixer, beat the eggs with the sugar at medium speed until thick and pale, about 5 minutes. Beat in the vanilla and salt. Using a rubber spatula, fold in the melted chocolate, then fold in the flour and baking powder. Stir in the chocolate chips. Scrape the batter into a shallow baking dish (I used a 9″ x 13″ baking dish), cover and freeze until well chilled and firm, about 1 hour.

Preheat the oven to 350° and line 2 baking sheets with parchment paper. Working in batches, scoop 2-tablespoon-size mounds of dough onto the prepared baking sheets, about 2 inches apart. Bake for about 10 minutes, until the cookies are dry around the edges and cracked on top. Let the cookies cool on the baking sheets for 10 minutes, then transfer to a rack to cool completely before serving.

Yield: ~36 cookies

One year ago: Pecan Sandies
Two years ago: Potato Torta
Three years ago: Ranch Potato Salad
Four years ago: Chicken with Tabbouleh

Print This Recipe