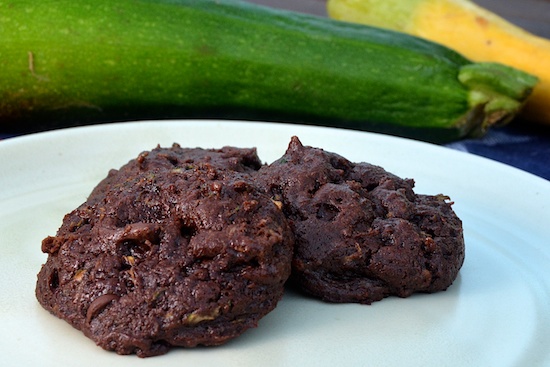 I received quite a few zucchini last week at my CSA, so I searched for something fun to do with them. We have eaten so many zucchini salads this summer, and quite a bit of grilled zucchini, so I searched for a sweet recipe.
I tried zucchini bread last week, which the boys rejected, so I figured I'd try something where the zucchini would be more hidden. Well, the zucchini was hidden well enough for three of my four boys. One son took one look at the cookies, deemed them full of vegetables and wouldn't go near him.   Once again, his loss. These cookies are soft, chewy and very fudgy. They're almost like little brownies in cookie form. They're great at room temperature and according to my husband, incredible frozen too.   I wanted a frozen cookie, but they were gone before I had a chance to try one.
Give these a try if you have a plentiful bounty of zucchini this season. I'll definitely make them again this summer.
Chocolate Fudge Zucchini Cookies
Recipe modified every so slightly from Two Peas and Their Pod


1 1/4 cups all-purpose flour
1/4 teaspoon baking soda
1/4 teaspoon salt
5 tablespoons butter
1/2 cup cocoa powder
2/3 cup granulated sugar
1/3 cup packed brown sugar
1/3 cup vanilla yogurt
1 1/2 teaspoons vanilla extract
1/2 cup finely shredded zucchini
A generous 1/2 cup of semi-sweet chocolate chips

Preheat oven to 350°. Grease a large cookie sheet, or line it with parchment paper.

Wrap the shredded zucchini in a paper towel, then in a clean dish towel and wring out as much moisture as you can. Set aside.

Whisk together flour, baking soda, and salt; set aside. Melt butter in a large saucepan over medium heat. Remove from heat; stir in cocoa powder and sugars. The mixture will be thick and resemble sand. Add the yogurt and vanilla extract. Stir until smooth.

Add flour mixture, stirring until moist. Stir in zucchini and chocolate chips.

Drop by level tablespoons 2 inches apart onto prepared cookie sheets. Bake for 10 minutes or until almost set. Cool for 2-3 minutes or until cookies are firm. Remove cookies from sheet and cool completely on wire racks.

Yield: ~24 cookies

One year ago: Honey Cornbread Muffins
Two years ago: Pork Chops with Peach-Ginger Chutney
Three years ago: Blueberry Crumb Bars
Four years ago: Decadent Brownie Tart

Print This Recipe