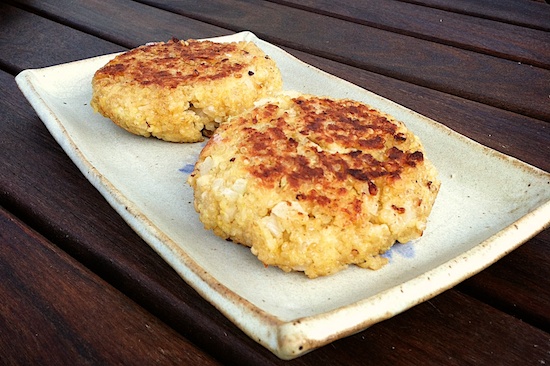 I bought a giant bag of quinoa from Costco about a month ago which we have been working our way through. When our friends from Atlanta came to visit, they brought us another bag, so I have a lot of quinoa to cook. My husband and I love it, and I'm trying desperately to find ways to get our boys to like it. I figured this recipe would be more appealing to them than some others that are loaded with big chunks of vegetables. I loved potato patties when I was growing up, and these are not too far off, so I was hoping that at least one of my boys would have inherited that gene from me, but alas, no such luck. One of my sons thought these were just OK. I guess that's a little bit of progress.
I thought these were a perfect side dish when dipped in a little ketchup. They'd also be good with tomato sauce or hot sauce. I actually had one for breakfast the day after I made them and it was great. This is a great way to use up extra cooked quinoa.
This recipe calls for 2.5 cups of cooked quinoa. I didn't have any cooked quinoa on hand so I cooked 1 cup of quinoa (1 cup dry quinoa cooked in 2 cups of water – using chicken broth will give the patties even more flavor) and that made enough.
Quinoa Cakes
From Super Natural Everyday by Heidi Swanson

2 1/2 cups cooked quinoa, at room temperature
4 large eggs, beaten
1/2 teaspoon fine-grain sea salt
1/3 cup finely chopped fresh chives
1 yellow or white onion, finely chopped
1/3 cup freshly grated Parmesan or Gruyère cheese
3 cloves garlic, finely chopped
1 cup bread crumbs, plus more if needed
Water, if needed
1 tablespoon extra-virgin olive oil or clarified butter

Mix the quinoa, eggs, and salt in a medium bowl. Stir in the chives, onion, cheese, and garlic. Add the bread crumbs, stir, and let sit for a few minutes so the crumbs can absorb some of the moisture. Form the mixture into twelve 1″thick patties. You can also form more smaller patties, if desired. If your mixture is too dry, add some water a little bit at a time. If your mixture is too wet, add some more breadcrumbs.

Heat the oil in a large, heavy skillet over medium-low heat, add 6 patties, if they'll fit with some room between each, cover, and cook for 7 to 10 minutes, until the bottoms are nicely browned. If your patties aren't browned after 10 minutes, you can turn up the heat to brown them. Flip the patties carefully with a spatula and cook the second side until browned, about 7 minutes. Remove from the skillet and cool on a wire rack while you cook the remaining patties. This quinoa mixture keeps well in the refrigerator, so can be made in advance.

Yield: 12 cakes

One year ago: Two-Bite Chocolate Chunk Muffins
Two years ago: Fresh Strawberry Muffins
Three years ago: Peanut Butter Cup Bars
Four years ago: Outrageous Brownies

Print This Recipe