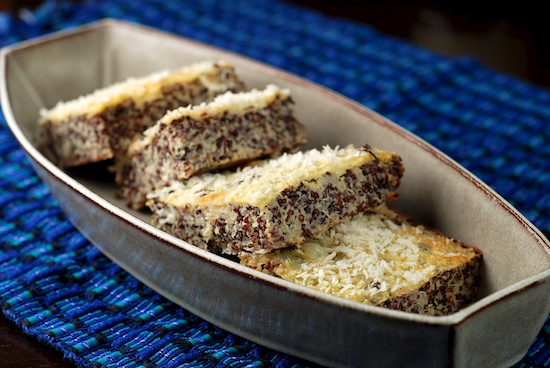 I wish I had a perpetual stash of these in my refrigerator. I've been eating them for lunch for the past couple of days and I truly think I could eat them every day without getting sick of them. They microwave well, they're healthy, and nicely filling. I put some smoked mozzarella in mine, and I think that made them extra delicious.
I had some red quinoa and some tri-color quinoa on hand, so I used those. That's why these have the color that they do. If you use regular quinoa, you'll end up with a much paler finished product.
This is a recipe that you can play with. You can try different cheeses and different spices to give it the flavor and level of heat that you like. The original recipe called for adding 1/2 cup of diced tomato, or diced red/green pepper. You can really add any vegetable that you like. I left the veggies out in the hopes that the quinoa might be more attractive to the boys without the added color. It didn't seem to matter.
Quinoa Mac and Cheese
Recipe adapted from Moni Meals

2 tsp olive oil
1 bunch of finely chopped chives
1 1/2 cups quinoa, rinsed and drained
Pinch of salt
Seasoning salt
2 cloves garlic, minced
3 cups of chicken or vegetable broth
2 large eggs
1 cup milk
1 1/2 cups grated Cheddar cheese (or more if you like things really cheesy)
1/4 cup chopped smoked mozzarella (optional)
1/4 – 1/2 cup shredded mozzarella
Panko breadcrumbs for topping

Heat oil in a medium saucepan over medium heat. Add scallions.  Cover and cook for 2 mins or until tender.   If you're using other vegetables, add them to the scallions.   Depending upon the vegetable, you may need to cook them longer than 2 minutes.  Stir in quinoa and garlic, and cook, uncovered, for 3 – 4 minutes or until the grains start to turn opaque.

Add 3 cups of broth and season with salt and the seasoning salt. Cover and reduce heat to med-low and simmer 15-20 minutes or until most liquid has been absorbed. Remove from heat and let stand for 5 minutes.

Preheat oven to 350 F. Coat 13×9 inch dish with cooking spray. Whisk together eggs and milk in large bowl. Fold in quinoa mixture and cheddar cheese and smoked mozzarella (if using). Stir very well and let some of the cheese melt. The mixture might seem a little soupy. This is ok.

Transfer the mixture to the prepared baking dish and sprinkle the shredded mozzarella and Panko breadcrumbs on top. Bake for 25-35 minutes, or until the dish is browned around the edges.

Yield: 12 servings

Two years ago: Boston Cream Pie
Five years ago: Chicken Stew with Biscuits

Print This Recipe