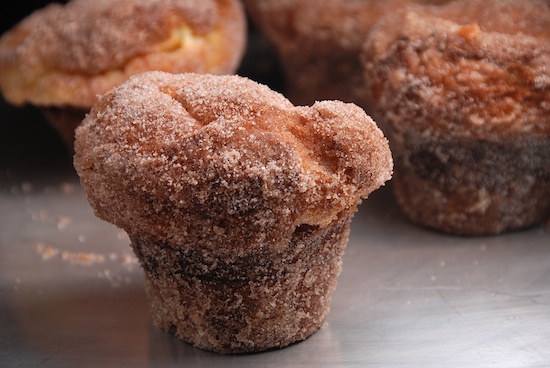 You dip anything in sugar and you've got my attention.
I've been looking at a couple of popover recipes lately, and I actually made one the other night with my son that was a big flop.   What were supposed to be nice, puffy, savory popovers turned out to be short, dense hockey pucks.   I'm not exactly sure what happened.     The only thing I changed in the recipe was to use whole wheat flour instead of white because I was out of white flour.   I don't know if that's what did it, but boy were they terrible.   My boys like bread so much that they ate them anyway, but take it from me, they were terrible.  These, on the other hand were incredible.
Right out of the oven, these are heavenly.   I could have eaten all of them, but as my boys calculated, there are 6 of us in the family, and we made 9 popovers, so we each got 1.5.  I'll definitely double the recipe next time!
Sugar-Crusted Popovers
Recipe by David Liebovitz

For the puffs:
2 tablespoons butter, melted
3 large eggs, at room temperature
1 cup (250 ml) whole milk
1 teaspoon salt
1 1/2 teaspoons sugar
1 cup (140 g) flour

For the sugar coating:
2/3 cup (130 g) sugar
1 teaspoon ground cinnamon
1/4 cup (60 g) melted butter
Softened butter, for greasing the pan

Preheat the oven to 400ºF (200ºC). Liberally grease a nonstick popover pan, or a muffin pan with 1/2-cup indentations, with softened butter.

For the puffs, put the 2 tablespoons melted butter, eggs, milk, salt and sugar in a blender and blend for a few seconds.  Add the flour and whiz for about 10 seconds, just until smooth.

Divide the batter among the 9 greased molds, filling each 1/2 to 2/3rds full.

Bake for 35 minutes, or until the puffs are deep brown.

Remove from the oven, wait a few minutes until cool enough to handle, then remove the popovers from the pans and set them on a cooling rack. If they're stubborn, you may need a small knife or spatula to help pry them out.

Mix the sugar and cinnamon in a medium bowl. Thoroughly brush each popover all over with the 1/4 cup of melted butter, then dredge each puff generously in the sugar and cinnamon mixture to coat them completely. Let cool on the wire rack.

Yield:  9 popovers

Print This Recipe